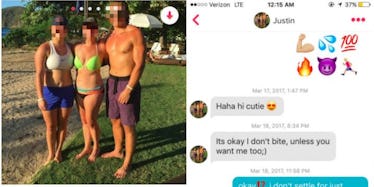 'Student-Athlete' Doesn't Realize He's Being Memed In Hilarious Tinder Convo
Tinder
There are few things more enjoyable in life than trolling someone who has absolutely no idea they're being trolled.
Perhaps that sounds a little mean, but we've all been a victim of this at one point or another.
But Justin, on the other hand, seems especially clueless.
Justin's a 20-year-old dude on Tinder looking for love, as one does.
He described himself in his bio as a "student-athlete."
Enter Brooke, who reached out to him with an opening message containing only a series of seemingly random emojis.
Justin appears to completely ignore this and shoots her a typical "hi cutie" in response. To make her feel more comfortable, he even tells her,
Its okay I don't bite, unless you want me too ;)
And then the trolling begins.
Brooke messages back:
If you're feeling confused right now, that's probably because you're unfamiliar with the latest meme trend swarming the internet.
As with most memes, it's a hugely over-exaggerated stereotype.
But the idea is to make fun of very highly motivated student athletes...
...and their obsessions with being the best....
...literally all day, every day...
...because life is all about the gains and the grind.
With this newfound viral meme knowledge, you'd think maybe Justin got the joke at this point, right?
Nah.
May I say it's actually kind of adorable how clueless he is?
Anyway, I suppose it comes as no surprise that Brooke is kind of a master at trolling.
She told Elite Daily she's on Tinder mostly to joke around with people, "but this was the first time I had an insanely ridiculously funny response."
Brooke said the conversation continued for a little bit longer, but when she asked if he'd ever seen the student athlete memes, he had no idea what she was talking about.
She added,
I said he should probably look them up and then I unmatched him because the secondhand embarrassment I felt for him was out of control. Way too busy on the grind, or possibly chatting with his girlfriend (haha yes I found out today that he is in relationship).
JUSTIN, WHO EVEN ARE YOU AND WHAT IS YOUR LIFE!?