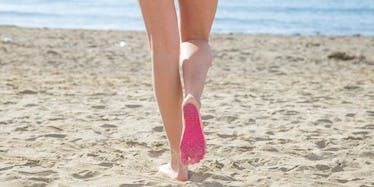 These Stick-On Soles Are Perfect For Beachgoers Who Hate Wearing Real Shoes
Nakefit Kickstarter
I grew up at the Jersey shore (not to be mistaken for this Jersey Shore), and I know for a fact wearing real shoes on the beach can be painful and annoying.
TBH, there's nothing worse than walking onto the sand and getting itty bitty clumps in your shoes before you take 'em off -- and when you do take them off, there's nothing more painful than sizzling your toes on the burning hot shoreline.
This is a tragedy I know all too well, my friends, and it isn't fun.
Thankfully, there's a new product coming that'll help you get rid of your beach shoes entirely, and anyone planning a tropical summer vacay needs it immediately.
The product is called Nakefit, and they're basically shoes without the whole "shoe" part. In other words, everyone who loves going barefoot on the reg is going to love them.
Nakefit consists of stick-on soles that will protect your feet from cuts and infections that you might get from walking around barefoot. As the promotional video expresses, it's perfect for rocks, sand, the pool, and the spa.
Pretty cool, right? As someone who loves walking around barefoot, I need a pair immediately.
The Italy-based product is entirely vegan, and comes in three different colors: blue, pink, and black.
According to the product's Kickstarter page, the stick-on soles are super easy to take on and off, too -- so you definitely won't have to struggle with the stickiness during your relaxing beach trip.
Based off the video, you won't have to hop around in the sand and run to the water to prevent your feet from burning, either (HALLELUJAH).
So far, the Nakefit Kickstarter already raised well over $100,000 and has exceeded its goal. If you want to contribute to the cause and pre-order your own pair, click here.
Could you order me a pink pair while you're at it? THANKS!