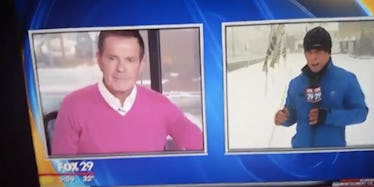 Nothing's More Awkward Than Reporter's Reaction To Homophobic Joke On Live TV
Twitter
Here's a free life hack for you: Don't make homophobic jokes.
It is true, a lot of people were idiots as children who may have participated in what we now see as homophobic bullying.
But then, see, what happens is, you grow up and learn. And then you do better as a person.
That's clearly not what reporter Steve Keeley learned over the course of his life, however.
During a live television broadcast, Keeley made a call back to his younger days, showing he has neither learned nor grown.
"Good Day Philadelphia" host Mike Jerrick was wearing a pink sweater.
Rather than say something nice or nothing at all, Keeley decided to take the blatant homophobia route.
Reporting in the snows of Pennsylvania, Keeley told Jerrick he wanted to help him "model your sweater a little bit more."
He told Jerrick to do something "this kid I went to school with" would make people do. Keeley said,
If a kid came to school in Camden wearing that sweater, he'd go up to the kid and … he'd say, "Put your left hand on your hip."
Keeley asked for a shot of Jerrick doing what Keeley said. Keeley then tells Jerrick to "touch your right shoulder with your knuckles on your other hand."
Jerrick followed the instructions at first, skeptically. But after the second instruction, Jerrick stopped.
He said,
I don't think this is appropriate.
This was a fantastic response to homophobia, and it's an example we can all learn from. Rather than let it slide, Jerrick stood up to Keeley and called him out.
His call out was simple — just telling him it was inappropriate.
Jerrick attempted to smooth the situation by turning his hands to be a teapot.
Keeley stumbled, saying,
I'm sure I'll think that's funny later.
Yeah sure, Steve, whatever you say.
Be better.
Citations: Watch: Fox 29's Mike Jerrick cries foul when Steve Keeley mocks his pink sweater on-air (Philly)