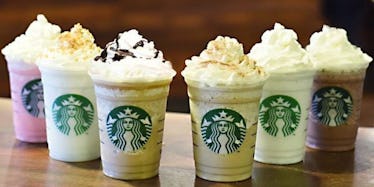 If You Haven't Had These Starbucks Secret Menu Frapps, You Haven't Lived
Starbucks
You have to admit, the second you hear "Starbucks," you start craving your favorite order.
The coffee company always manages to command your attention, regardless of what it has on the menu.
So naturally, when we discover a whole batch of Secret Menu frappuccinos, it's our duty to be a blabber mouth and give you the lowdown (no need to thank us).
There are several frapps — nine to be exact — that you should put on your list. This is going to make your next coffee run a little complicated, so you might want to return for seconds and thirds.
Here is everything you need to know about ordering these once top-secret treats (just call me Inspector Gadget).
Start off your first round with the Caramel and Coconut Frappuccino.
This is a Mocha Frappuccino with toasted coconut syrup and caramel syrup. I imagine they serve this in Heaven.
Channel your favorite carnival food with the Churro Frappuccino.
This is a Vanilla Bean Frapp with cinnamon dolce syrup, ground cinnamon, white mocha syrup, whipped cream, and caramel drizzle.
Just make sure to indulge after you enjoy the carnival rides.
What menu would be complete without an order of cookie dough?
Behold the glorious Cookie Dough Frapp.
The Cinnamon Dolce Creme Frapp mixes mocha syrup, java chips, and mocha drizzle.
I'll take seven, thanks.
Mix your coffee run and dessert with the Banana Pudding Frapp.
How lovely does that look?!
This concoction is a Vanilla Bean Frapp blended with a banana, vanilla syrup, and cinnamon dolce syrup.
Have your cake and eat it too with the Raspberry Cheesecake Frapp.
The White Chocolate Mocha Frapp comes complete with both raspberry syrup and drizzle.
Again, I'll take seven.
Mix your favorite candy bar and your favorite drink with the Twix Frapp.
The Caramel Frapp comes with mocha sauce, hazelnut, and whipped cream with a caramel, and mocha drizzle.
This is a phenomenal mix.
Get your sweet tooth ready for the Candy Floss Frappuccino.
The sweet sips are thanks to raspberry syrup in a Vanilla Bean Frapp.
Think pink and give it a whirl.
Have a gander at that Cookie and Frosting Frapp. Yum!
It's basically a DunkAroos Frapp. If you're a '90s kid, you'll want some of this!
It's a complicated one: a Vanilla Creme Frapp with chocolate mocha syrup, cinnamon dolce syrup, java sprinkles, and powdered cinnamon.
Skip the bakery and just get the Banana Bread Frapp instead.
It's the best of both worlds, honestly.
Ask your barista for a Vanilla Bean Frapp with a blended banana, hazelnut, and cinnamon dolce syrup, topped off with ground cinnamon.
So which one will you order first?
Citations: 9 Starbucks Secret Menu Frappuccinos You Need to Order Asap (Cosmopolitan)