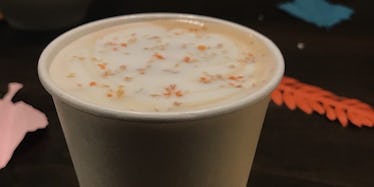 Starbucks' Maple Pecan Latte Tastes Like Autumn In A Cup & It's My New Obsession
Amanda Fama
OK, everyone. I had the very fortunate opportunity to taste Starbucks' new Maple Pecan Latte a few days early, and let me tell you: IT. WAS. DELICIOUS. I'm typically enthusiastic about autumnal morning beverages, but this one was tastier than any fall-inspired coffee I've tried in a long time. Sure, I love Pumpkin Spice Lattes with all of my heart, but there's something different about this beverage that I really love a-latte. (Get it?) I'll try to keep it short and sweet while telling you what Starbucks' Maple Pecan Latte tastes like, so sit back and get your taste buds ready.
As I walked into Starbucks before tasting the drink, I was nervous because the Pumpkin Spice Latte is a tough act to follow. I mean, you have to be a really scrumptious drink to steal the PSL's spotlight, and I had definitely doubts. However, all my worries washed away with my first sip of the MPL (Maple Pecan Latte), because it sent my tastebuds on a sweet trip down Halloweentown lane.
Seriously, though. Every sip was a sweet sensory overload of maple, nutty pecan, and coffee flavors, and I can't imagine another autumn morning without it. At first, it's creamy -- and the foam on top of the latte is decorated with glittery orange sprinkles made of sugar. In fact, a Starbucks spokesperson tells Elite Daily the Autumn Sugar Topping was made exclusively for the MPL, and it makes total sense. Not only are the glistening sugar sprinkles festive AF, but their sweet flavor prepares you for the maple-coffee hints that follow.
Once you sip past the festive foam atop your latte, you'll taste maple flavors that'll remind you of a delicious pancake breakfast. To be honest, I'd rather sip on a MPL than munch on fluffy pancakes -- it's that good. In addition to the sweep maple flavor that'll make you feel cozy on a chilly autumn morning, the MPL has hints of pecan that give the beverage a nutty flavor you're guaranteed to love.
In case my description of the drink didn't persuade you to buy one on Friday morning, maybe the following description will. A Starbucks spokesperson described the Maple Pecan Latte in an email to Elite Daily. They said,
Inspired by classic fall flavors and the iconic changing leaves of the season, the Maple Pecan Latte is a warming blend of espresso and steamed milk, featuring notes of maple syrup, pecan and brown butter, finished with a colorful autumn topping.
Yum. Are you thirsty, yet?
Me too! I'm also thrilled I can finally try the Maple Pecan Latte on my way to work tomorrow. Speaking of buying the drink, the MPL cost ranges from $4.25 to $4.45, so make sure you budget accordingly (especially if you've been buying Pumpkin Spice Lattes every damn day of the week).
Once you purchase your delicious MPL at your local Starbucks on Friday morning, you'll also be surprised by adorable new autumn-inspired. Starbucks is releasing limited edition Fall Cups on Friday in addition to the MPL, and they'll make your morning that much more festive.
Starbucks' Fall Cups are jewel-colored with autumnal hues of maroon, teal, and orange. Like Starbucks' previous Spring Cups, these will have an empty white circle in the middle where customers can doodle their favorite Halloween drawing. In other words, you can make your MPL (or PSL) as festive as you want with the help of a Sharpie marker.
Now that you know about Starbucks' delicious MPL and the Fall Cups that it'll come in, get ready for a sensory overload when the drink is released on Friday, Sept. 22.
Check out the entire Gen Why series and other videos on Facebook and the Bustle app across Apple TV, Roku, and Amazon Fire TV.