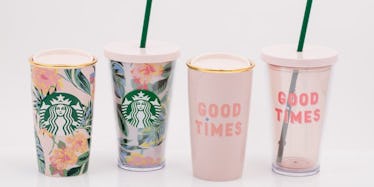 Starbucks' New Designer Merchandise Is The Best Accessory To Go With Your Frapp
Starbucks
Starbucks is giving us the opportunity to add a little swag to our frapp order, and we're certainly grateful.
None of this would be possible without Jen Gotch, and we owe her a venti-sized amount of credit (x 100).
When the chief creative officer of ban.do — the lifestyle brand chock-full of colorful accessories we all love —  headed to Tokyo and Kyoto for a weeklong vacation, she intended it to be for pleasure. However, Gotch's time in Asia ultimately resulted in the fusion of two of our favorite brands.
She received a call from Starbucks to partner on a collection, and that's when her inspiration from Asia came to fruition.
Now, of course, we are reaping the beautiful benefits with the perfect floral mug for our coffee. Who wouldn't want to carry their morning cup of joe in that beauty?
Thank goodness Gotch wanted to take a trip, huh?
"From the culture to the five-story art stores, floral-shaped cotton candy, rich history and traditions, it was everything I thought it would be and more," she said in a Starbucks press release. "I knew that I would come back someday to explore other countries in Asia."
The exploration led to the ever-so convenient coasters.
They make for a perfect accessory when our Midnight Mint Mocha Frapp starts to drip.
A clean kitchen table? Why yes, that's a very good time to me.
We all know that Starbucks is a go-to hangout for creative types, right?
So what better way to channel that creativity than with these notebooks? I'll take both, thanks.
Don't forget your pencils!
Make sure you carry everything in this super-cute tote.
Though you probably have your wallet ready to purchase the merchandise during your next coffee run, there is a slight catch.
This was an Asian-inspired project, and unfortunately, the limited-edition collection is only available in Asia.
But before you give your barista an earful if you're not in Asia, make sure you enter the ban.do contest for your chance to win some swag.
Good luck, coffee fans!
Citations: Exclusive Starbucks Merchandise Features Designs from Fashion Brand ban.do (Starbucks)