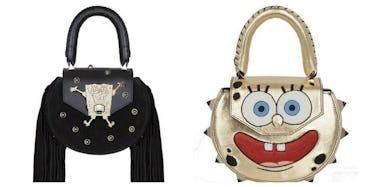 Nostalgic 'Spongebob Squarepants' Handbags Are Here And We Are So Ready For Them
Attention fellow '90s kids, I have big news: Spongebob Squarepants has been immortalized with designer handbags. Created as part of Nickelodeon International and Viacom Consumer Product's year-long Spongebob Gold campaign outside the U.S., the bags are stunningly beautiful with just the right amount of Spongebob-level quirkiness to make you say, "Yup, I'm ready to own 'em."
The Spongebob Gold fashion collection — which consists of all sorts of closet staples — was originally debuted back in February during London Fashion Week. Six different international designers came together to create an entire line of elevated, Spongebob-inspired wear that far exceeds the cheap tees of your youth.
And we have Italian fashion label SALAR to thank for the eye-catching handbags.
Owners Salar Bicheranloo and Francesca Monaco brought their unique edge to Spongebob, highlighting his youthfulness amid bold Italian leather and gold hardware.
In a February 2017 press release, Bicheranloo and Monaco expressed their excitement for the then-upcoming collection. They said,
It has been so exciting to work on SpongeBob Gold, we LOVE Spongebob for many reasons… but mainly because he cooks the best krabby patties!
So, let's have a look at all four, shall we?
There's the Mimi.
The embroidered Spongebob face on the Mimi ($700) is too cute. And the gold studded leather? Well, that's the edge I'm talking about.
There's the Mimi Fringe.
Featuring the happy Spongebob we know and love, the Mimi Fringe ($581) is festival-ready. Together, the black leather and the gold hardware create an appealing contrast.
It also comes in a Patrick version!
Instead of black leather and rounded gold studs, the Patrick version of the Mimi Fringe ($581) is pink with golden stars that pay homage to both his shape and his last name.
There's the Eva.
Made with black and gold leather, the Eva ($780) is covered with eye-catching elements like an adorable embroidered Spongebob face and a spiked handle.
Cosmopolitan reports that these handbags will be available in September; however, they are currently available for purchase on Wonderland's shop (along with other Spongebob Squarepants merch you should definitely check out).
Personally, my fall wardrobe is ready for the Eva.