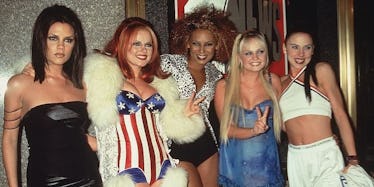 The Spice Girls Movie Is Coming Back To Theaters And We're So Freaking Excited
Victor Malafronte/Getty Images
People of the world: Get ready to spice up your life, because I have some big news. The Spice Girls' movie, Spice World, is coming back to theaters for its 20th anniversary, and I can't contain my joy. The announcement came from The Spice Girls' official Facebook news page, and it says they'll be screening Spice World "at a cinema near you."
See the exciting post below.
Unfortunately, the whole "cinema near you" bit only applies to the UK for now, but they seem to be planning on expanding to theaters across the world soon. For those of you lucky enough to live in the UK, the special screenings will take place on Sept. 29, so don't miss out.
OK, this is a momentous occasion. Even if no Spice World screenings take place in the U.S., I have to dust off my platforms and rent it or something.
News of the special screening comes off the heels of "Wannabe's" 21st anniversary, which was celebrated July 8. You probably remember what an epic song "Wannabe" was, because it made female empowerment and sisterhood an important part of the conversation.
Not to mention, the iconic song gave us an even more iconic line.
To this day, I have no idea what "zigazig ah" means... but I do know that whenever I hear that particular line on the radio, I can't contain my excitement.
Spice World's 20th anniversary serves as a reminder that girl power is everything. It also reminds us that we shouldn't let anyone waste our time in the dating arena, and that the film came out 20 years ago. This, of course, means that we Millennials are officially getting old.
If you ask me what I want, what I really really want, I'll have to answer that I want for theaters in the U.S. to screen Spice World on Friday Sept. 29. If it doesn't happen, we riot!