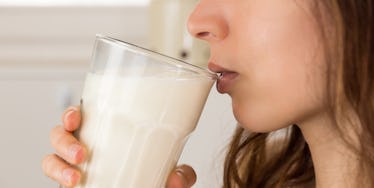 Most Savage Son Ever Accidentally Let His Mom Drink A Cup Of His Semen
Shutterstock
I'M NEVER DRINKING WATER OR MILK OR SODA OR ANYTHING EVER AGAIN.
A Reddit user allegedly let his OWN MOTHER accidentally drink his semen, and now he's writing about it on the internet.
Yup, put your drink down for this one. You're not gonna want to take another sip after reading this.
The user Blablie12 posted this detailed story in the "Today I Fucked Up" subreddit:
Excuses for my bad English, I'll do my best. This happened a couple weeks ago. I had a pretty bad cold (not any fever or anything, just headaches and a sore throat and coughing up a lot of slime) so I stayed at home from school. I decided to lay on the couch while my mom was going somewhere with a friend of her. After a couple hours I was bored so I decided to start fapping (I didn't feel that bad). I didn't have anything near me to dump my load in except a cup with a little water left in it. I decided to use it and said to myself that I would wash the cup right after I would be finished. This is where the fuckup started After I finished I was so stupid enough to put the cup back where it was. I know that I was being stupid but I really didn't feel like coming of the couch. Then my mom comes back and starts a conversation with me. She decides that she'll be nice to me and clear the little table next to the couch. She picked up the cup and DRANK WHAT WAS LEFT. You could see on her face that the stuff she drank wasn't exclusively water and she asked what it was. I'm completely fucking shocked and I'm just able to say that it was some slime that I coughed up and spitted out. She was extremely disgusted and got pissed at me. I just wanted to kill myself that moment but I think I handled the situation pretty well by telling her that she drank some of my spittle than some of my semen.
YEAH, TODAY YOU DID FUCK UP.
Me right now:
ALSO ME RIGHT NOW:
It looks like the people of Reddit are having mixed reactions about the whole thing. Some people are grossed out while others think it's the best story they've heard all day.
THIS IS HIS MOTHER, PEOPLE. SHE DRANK HER SON'S SEMEN.
I am not OK.
Today, I learned two very valuable lessons: One, never jack-off into a cup, and two, only drink beverages out of the bottle.
BRB, pouring my coffee out the window.
Citations: TIFU (Reddit), Son Let Mother Drink Semen (Dude Comedy)