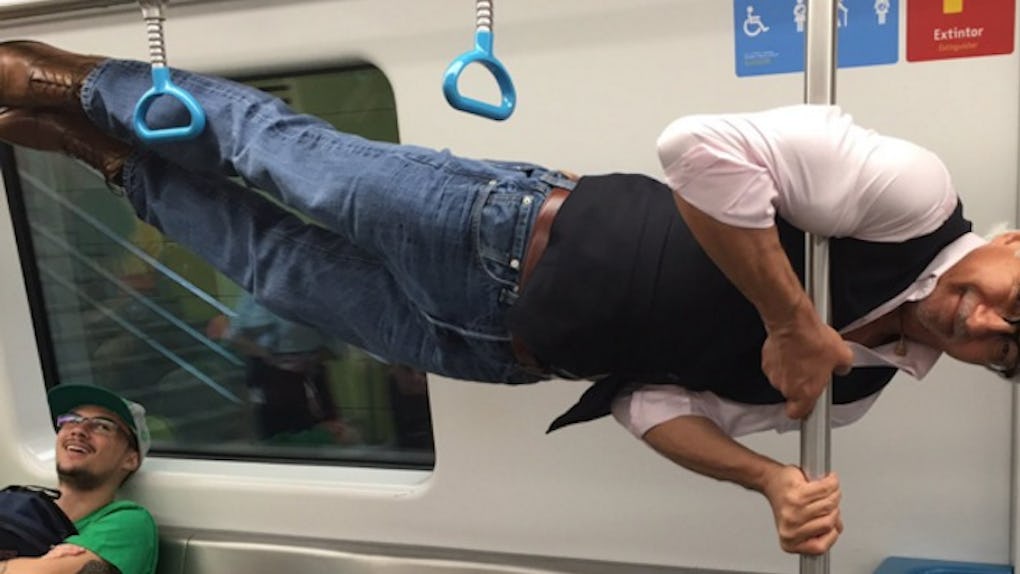 Twitter/Britton Barker
Someone Offered This Grandpa A Seat And He Responded With Gymnastics
A lot of people say age is just a number, and Wayne McEntire is proof of that.
According to Mashable, the 68-year-old American is presently in Rio de Janeiro, Brazil with his grandson, Britton Barker, amid the ongoing Olympics.
They were riding the subway when someone offered McEntire a seat reserved for passengers who've seen more days than the rest of us.
This is normally a polite thing to do, but McEntire's response was absolutely amazing.
He grabbed a subway pole and lifted himself horizontally above the seats. Fortunately for all of us, McEntire's grandson snapped some pics of his grandpa's incredible feat and posted them on Twitter for the world to enjoy.
The tweet of the photos went viral and, as of Saturday afternoon, has been retweeted over 88,000 times.
Yep, McEntire is basically an Olympic gymnast with superhuman strength. Look out Simone Biles!
Respect your elders, but also remember they're often full of surprises. This is yet another lesson you should never judge a book by its cover.
Wayne McEntire, you're the real Olympics MVP! I hope I'm half as cool as he is when I'm a 68-year-old grandpa.
Citations: Fit grandpa offered a subway seat turns it down with gymnastics (Mashable)