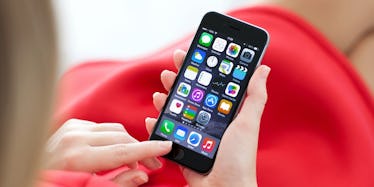 This Is The Sneaky iPhone Feature That's Been Stealing Your Money For Months
Shutterstock
Damn you, APPLE! We've given you so much and you repay us with THIS?!
Friends, lend me your eyes, because if you've got one of the iPhone's latest operating systems (9.1 or higher), then you're going to want to turn off this sneaky little feature.
Let me give you some context.
Back in January, Ashton Feingold, from Denver, was doing what any youngster does at night in their family home: chatting shit to people online, browsing Instagram, throwing out a few Snaps, etc. All of this was on his home's Wi-Fi.
But when his phone bill came in, it was well over $2,000. Imagine the panic.
He told CBS4, "I thought my dad was going to kill me."
So what was to blame? The iPhone's feature called Wi-Fi Assist.
If you haven't heard of it, it basically works by automatically using data when a Wi-Fi signal is weak. Cool, thanks for the heads-up, Apple.
The feature is on by default. You'll have to go to your phone settings and switch it off immediately if you don't want to risk being stung with a mammoth bill after using all your data.