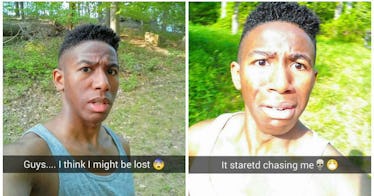 This Guy's Insanely Unlucky Snapchats Will Make You Believe In Friday The 13th
snapchat
Don't mess with superstition, man, it's not worth it.
This guy knows a thing or two about that.
He decided to go out for an adventure on Friday the 13th and document the whole thing on Snapchat.
But what started as a lovely stroll in the woods quickly turned into a nightmarish journey from which he will never recover. Probably.
Here's how it started.
Then all hell broke loose...
And so it begins.
Things went from bad to worse...
And then just became straight-up bizarre.
Cue the scary noises...
Ah, it's cool.
No, wait, RUN!
Then, a shining beacon of hope...
WIN.
More win!
But Friday the 13th isn't over yet.
Hold up! Oh dammmmn.
The horror!!!!
Now what did we learn? That's right, never go out on Friday the 13th. Everything is super bad luck and you'll probably get chased by geese or something equally as scary.
Thanks for sharing your story, Snapchat guy.