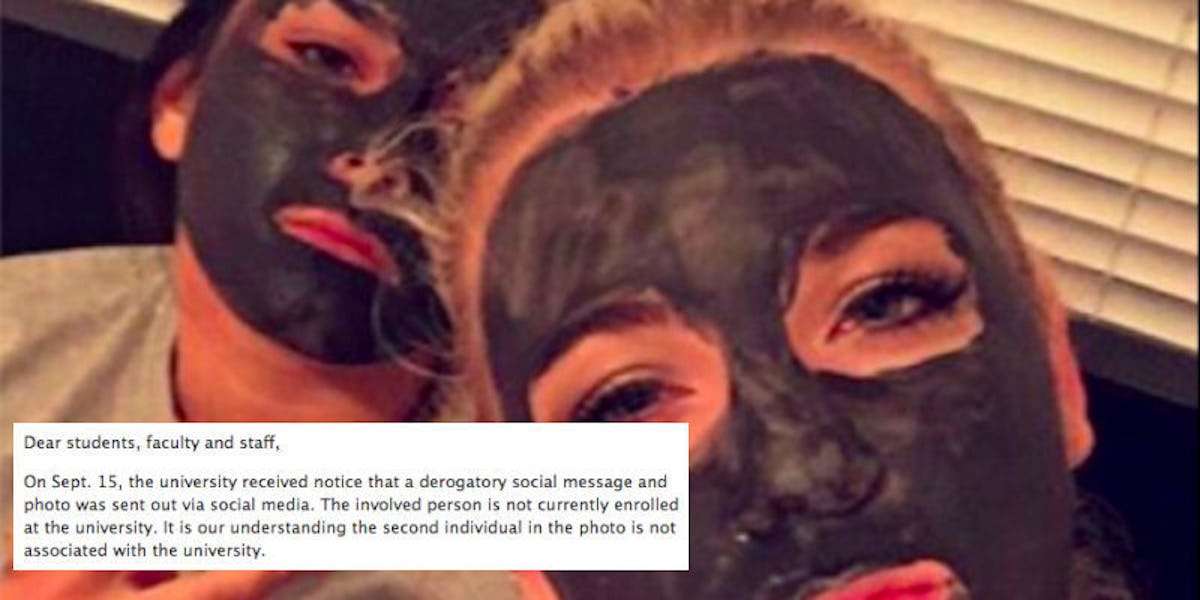 Kansas State University Finally Addresses Sorority Girl's Racist Snapchats
Snapchat
If you ever needed a reminder that racism is alive and well here in the good ole US of A, all you'd need to do is check out these disgusting Snapchat posts from a former KSU student.
When I say "disgusting," I mean f*cking DISGUSTING and incredibly tragic.
As a matter of fact, it's quite hard to not feel sorry for anyone who has the unfortunate opportunity to know the young women pictured in these blatantly racist social media posts.
News broke early on September 15 after an ex-sorority girl named Paige Shoemaker, a former student at Kansas State University, sent out a few offensive snaps of her and a friend, reportedly named Sadie Meier, sporting blackface.
The photo was simply captioned,
Feels good to finally be a nigga.
A current KSU student, presumably named Desmund, shined a giant spotlight over their overt racism on Twitter.
These girls who were making hand gestures to form a letter "W," which typically represents "west side," should probably consider forming the letter "L" next time -- for LOSERS.
Great job, children. You've "finally" earned yourself a nice shiny star on the walk of shame and despair. Your parents will be proud.
Since the news has circulated, people from all over the country are expressing their outrage and disbelief over such an offensive showing.
Now, Kansas State University is now speaking on the racist stunt in a newly issued statement.
Dr. Zelia Wiley at the university started off by stating,
On Sept. 15, the university received notice that a derogatory social message and photo was sent out via social media. The involved person is not currently enrolled at the university. It is our understanding the second individual in the photo is not associated with the university.
It turns out Paige Shoemaker is no longer enrolled at KSU despite mixed reports. Why? It's not entirely clear.
However, the Zeta Tau Alpha sorority issued a statement to Complex clarifying that Shoemaker was "expelled" from their organization in the spring of last year.
In addition, the second racist in the photo has nothing to do with KSU.
Wiley continued,
This racially offensive photo with a derogatory message has upset the K-State family and is not in concert with our principles of community. Such messages on social media are harmful to all.
It's good to see that SOMEONE understands how a low-life stunt like this could affect ALL people, not just one specific race. Wiley added,
As members of the K-State family, we should always visualize and work toward a safe, welcoming environment for our community. I and other members of the CCRT welcome the opportunity to speak with our affected students and employees as we continue create a culture of inclusion for the entire K-State family.
While it's relieving to know that Paige Shoemaker's ignorance no longer resides on KSU grounds, it's a disappointment to the rest of the world when it is made abundantly clear that this twisted, racist mindset continues to deteriorate the minds of our youth.
When we all start to realize that most of these "sorority girls," "frat brothers" and "GDIs" are perceived to be the leaders of tomorrow, maybe we'll all be less accepting of our friend's bigoted "jokes."
Feel free to read the entire letter from KSU's interim Associate Provost for Diversity Dr. Zelia Wiley here.
Citations: Kansas State University Issues Statement Condemning Racist Snapchat Post From Former Student Trace William Cowen (Complex)