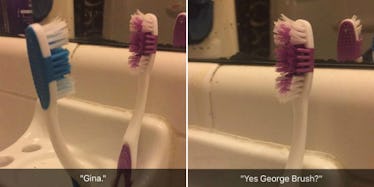 Snapchat Love Story Between Toothbrushes Is So Romantic – Until Its Gross Ending
Snapchat
There has never been a love story that pulls the heartstrings more -- or grosses us out more -- than that of George and Gina.
Yes, they are toothbrushes.
Yes, this is a story you won't see on the big screen or in your Intro to Shakespeare class.
And yes, they are a bit worn out from their hard work -- but does that not compel us to their story more? They're working class, just like us.
We toil, we do the dirty work we have to do, and we fall in love.
Join me, as we go on this emotional rollercoaster together, written and shared on Snapchat by Daqonium.
George Brush has to get something off of his Control Grip ™ back.
Dear God, George... is it... is it gingivitis?
Gina waits on bated anti-bad-breath.
Finally, George admits his true feelings for Gina, and they're as true and gentle as his gum massagers.
*Gasp* Oh, my God. It's finally happening.
(Cue "I Will Always Love You.")
His very, very worn bristles...
Could it be that Gina is trying to brush George off?
Say yes, Gina! Say you love George too! Say yes to life! Yes to love!
Don't leave his heart bleeding like poorly maintained gums after flossing...
KISS HIM, GINA! HE IS LAYING IT ALL ON THE LINE FOR YOU!
Wait... ewwwwwwwww... those are two people's toothbrushes.
How did I get so wrapped up in these two? They're obviously worn out toothbrushes. This person needs to stop brushing so hard and replace those brushes ASAP...
ESPECIALLY if two people are using them, and they're not belonging to the same guy.
That is so many germs. So many germs.
I could be married to someone for 65 years, truly in love with them and be the gross old couple who bone every night, and I would still vomit if they put their toothbrush on my toothbrush.
But who am I to judge love?
Citations: This Love Story With An Uncomfortable Ending Is Going Viral, And People Say It's Better Than Twilight (Bored Panda)