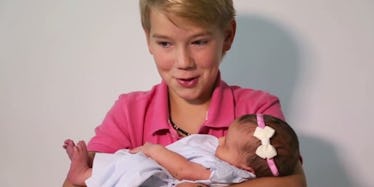 These 6 Brothers Finally Met Their New Baby Sister And It's Adorable (Video)
Until now, Jackson, Campbell, Sawyer, Houston, Shepherd and Knox Lair have been living sister-free.
Eagerly anticipated newborn, Ruby Jane Lair, recently joined the family and the boys shared some overwhelming emotions in a short video.
Sawyer, despite being only 7 years old, plans to take her safety into his own hand.
He vows,
She's as precious as a ruby and if I lost her I would join a police force and I would definitely get whoever did it…I would probably lock them up in jail for a thousand years.
Shepherd, 4, feels pretty duped by how adorable his sister turned out. Realizing his assumptions were all wrong, he admits,
She is cuter than I thought she would be.
Ruby is likely getting plenty of rest while her brothers process their feelings about welcoming her, and potentially the color pink, as 5-year-old Houston fears, into their home.
Cutest video of the year! Posted by The News & Observer on Tuesday, October 6, 2015