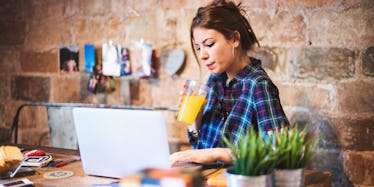 This Genius Site Sells All The Dumb Sh*t You Want When You're Drunk
SHHHHHHH, LISTENNN! SHH, SHH, SHHHH. THIS IS IMPORTANT.
YUO NEDDA BUY THIS TAXIDERMIED BAT MOUNTED IN A SHADOWBOX. YOUO NEEDA BUY IT NOW ON DRUNKMALL.
OK, OK, OK, I get it. No bat. But, what about 100 pairs of sunglasses for only $50? What about the Saddest Panda Bear Doll Ever? What about this 26-Pound Gummi Snake?
DrunkMall has everything you absolutely NEED and cannot walk this Earth without in one very freaking accessible stop (the Internet).
The next time you think, "Uh, buh'scuse me? Where is my pepperoni pizza bedspread? WHAT DO YOU MEAN I DON'T HAVE ONE??" DrunkMall will be there to make your life whole again.
No other website understands, sometimes, a person just needs to get smashed on a box of Franzia, hop online and rent HP Lovecraft's Rhode Island apartment.
I am giving a lot of thumbs up about DrunkMall right now. You can't see me, but like, three of my thumbs are up.
God, I'm so drunk.
Citations: There's now a website designed just for drunk shopping (Metro)