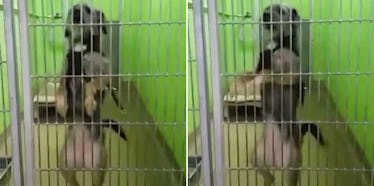 Someone Filmed This Shelter Dog Dancing And She Got Adopted The Next Day
Listen, dogs that can dance have an advantage over dogs that can't. No one's saying it's fair, but it's fact.
So, sometimes, dogs have to play their strengths and dance their ways out of sticky situations, ja feel?
That's just what the appropriately-named Ginger Rogers did from her cage at a shelter in Orlando, Florida. And lucky for her, she was caught on tape by Crystal Kincaid, who then posted the video to the shelter's Facebook page.
Just look at those expert steps! That balance! The poise! I can say with confidence both the dog and human versions of Ginger Rogers are way better dancers than me.
A mere day after the video was posted, the shelter announced Ginger was adopted.
Ginger Rogers (A341003) danced her way into hearts yesterday when her video was shared on social media. It's been viewed... Posted by Orange County Animal Services on Thursday, February 11, 2016
The lesson here? The people want entertainment, puppies! Put on a show for the folks at home, and it might pay off. Ginger knew what she wanted, and she went out and got it. What a star.
Citations: Dancing dog sashayed her way right into a forever home (Mashable)