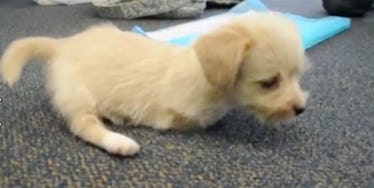 Scientists Made A 3D-Printed Wheelchair For This Cute Two-Legged Puppy
A two-legged terrier named Tumbles just got a new lease on life, thanks to the caring folks over at Friends of the Shelter Dogs animal rescue center.
Tumbles was born six weeks ago to a loving family in Athens, Ohio. The victim of a birth defect, the tiny terrier-beagle mix was both underweight and disabled, missing both of his front legs.
Because of his small stature, Tumbles was unable to compete with his siblings for his mother's milk. Worried about his well-being, the family brought the pup to Friends of the Shelter Dogs animal rescue center, knowing they could provide the special dog with the care he needed.
After sharing Tumbles' story on social media, a local animal lover reached out to the shelter with an offer: He wanted to build Tumbles a custom 3D-printed wheelchair to help him walk.
Word spread, and soon after, Tumbles was fitted with his very first set of wheels, built with the help of engineering students at the Ohio University Innovation Center.
Friends of the Shelter Dogs rescue coordinator Angela Marx says,
[The Innovation Center] will work with us as he grows and needs an altered wheelchair, and other other devices they believe will help him.
Marx admits, "it's going to be a process" for little Tumbles to learn how to move on his own, but so far, he seems to be "thriving" in his new environment.
She adds,
He's a little sweetheart and doesn't act as if he has any limitations.
Shelter employee Crystal Richmond is documenting Tumbles' progress on Facebook. Check out the inspiring videos below and head to Friends of the Shelter Dogs to learn more and donate.
Tumbles walking:
Tiny Mr. Tumbles is ready for his close up!!!! Friends of the Shelter Dogs This was taken on Tuesday, November 10, 2015, right before his first wheelchair fitting. ***NOT AVAILABLE FOR ADOPTION AT THIS TIME*** Posted by Crystal Richmond on Thursday, November 12, 2015
Tumbles and his new whip:
November 10, 2015. Tumbles at his first wheelchair fitting! I think it's so cute and funny when Little Silly tips forward on his cute little nose! :-D Karen Pilcher, Angela Marx, Michele Summers Friends of the Shelter Dogs The Ohio University Innovation Center made his wheelchair using a 3D printer! It took about 14 HOURS print!***NOT AVAILABLE FOR ADOPTION AT THIS TIME.*** Posted by Crystal Richmond on Thursday, November 12, 2015
Tumbles being Tumbles:
NEW TUMBLES VIDEOTumbles playing at The Ohio University Innovation Center today. He went in to see the nice people from 10tv news, WBNS-10TV - Columbus, Ohio (he'll be on at 6:15 PM!!) and to see his new set of wheels being printed! Friends of the Shelter DogsKaren Pilcher, Michele Summers, Angela Marx Video taken today, November 17, 2015****NOT AVAILABLE FOR ADOPTION**** Posted by Crystal Richmond on Tuesday, November 17, 2015
Citations: Tumbles the two legged puppy gets new pair of wheels (CBS News)