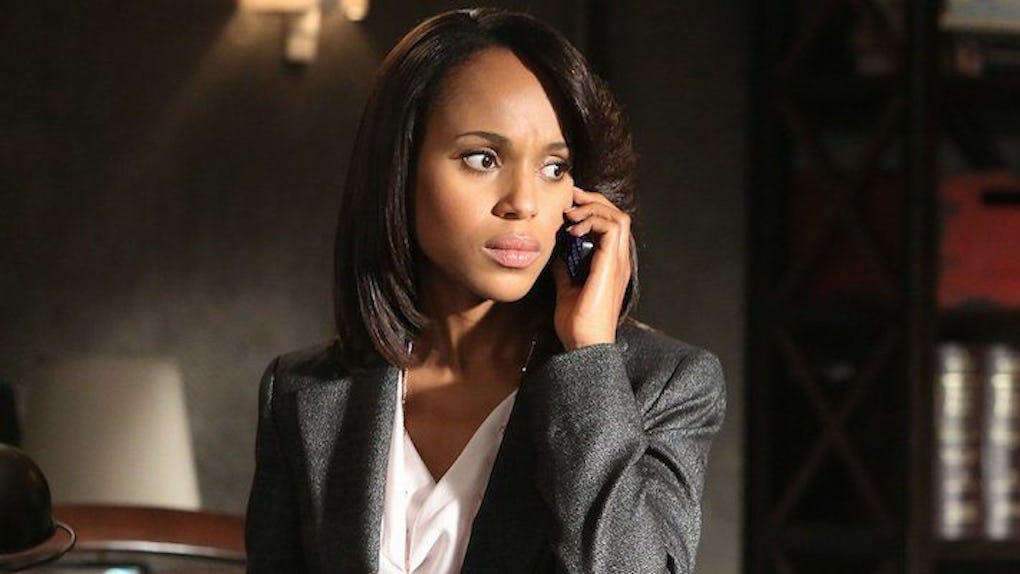 Disney–ABC Domestic Television
Die-Hard 'Scandal' Fan Drunk Dialed 911 And Pretended To Be Olivia Pope
If getting so lost in television that reality starts to blur is a crime in this country, then pack my bags and start up the space car, Rosie, because I'm leaving.
A major fan of "Scandal," Kelsey Jean Cousins, was arrested Friday for drunkenly dialing 911 insisting she was problem-solver Olivia Pope, Cosmopolitan reports.
The 20-year-old allegedly called police at 2:44 am from the Sports Column bar claiming "syrus beams outside of Sports Column."
She was likely referring to fictional "Scandal" villain Cyrus Beene.
The Iowa City Press-Citizen reports police responded to the call to find Cousins rambling on about a bomb-toting car headed to the White House. Police said she had bloodshot eyes, slurred speech, was unable to maintain proper balance and reeked of alcohol.
Cousins was arrested for her 911 non-emergency call and public intoxication.
Lesson learned, kids. If you're going to engage in a little drunk escapism, cut it short before involving the authorities.
They just don't get it.
Citations: Drunk "Scandal" Fan Calls 911 Pretending to Be Olivia Pope, Gets Arrested (Cosmopolitan), Drunken 'Olivia Pope' calls Iowa City 911, police say (Iowa City Press-Citizen)