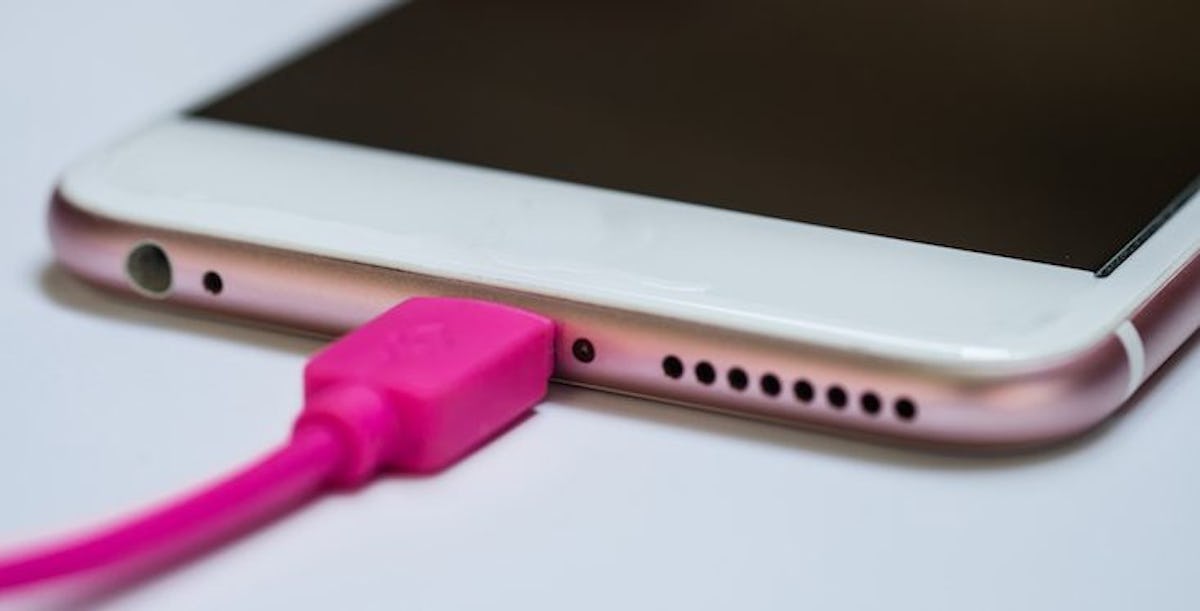 How To Save Battery Power On iOS 11, Because Apparently It Drains Your Phone Fast
tongcom photographer/Shutterstock
iOS 11 fever is in full effect and the iPhone users who have not downloaded the newest operating system already are desperately looking for any hack in order to free up space on their device and finally get their hands on what is the coolest Apple update yet. iOS 11 has given users more storage, the ability to customize their control center, and awesome photo features -- but it isn't all rainbows and butterflies. Apple's newest operating system is not flawless, and iOS 11 users are calling it out. Some users are claiming that this new update drains your device's battery fairly quickly. If you have downloaded Apple's latest operating system and want to know how to save battery power on iOS 11, then keep reading below.
Elite Daily reached out to Apple for comment but did not hear back at time of publication.
OK, so you deleted all of the apps on your iPhone and uploaded all of your media to your computer so you could finally download iOS 11. What if you download it and enjoy all of the new features this update comes with, just to quickly find out that iOS 11 actually drains your iPhone's battery? Security firm Wandera examined 50,000 moderate to heavy iPhone and iPad users and found that the battery on iOS 11 ran out in only 96 minutes, in comparison to the 240 minutes it took iOS 10 to drain the battery. Anecdotally, people on Twitter and other social media platforms are also saying they're losing battery life quicker with the new system.
Don't get mad, get proactive! You can save battery power on your device by cutting down the number of apps you have running in the background. You can do this by double-clicking your home button and closing all of the apps you aren't actively using.
If you close all of the apps you aren't using and still notice your battery running out faster than mimosas during brunch, you can also try limiting the apps that use location services. Apps like Snapchat, Instagram, Facebook, Waze, and Uber take advantage of using your location to help you use the app.
You can edit your location preferences by visiting "Settings" and scrolling down to where you can find all of the apps installed on your device. Then you select the app or apps you want to edit, tap on "Location" and make it so that your location is only tracked while you are using the app or you can edit it to never use your location.
You can also conserve battery on your device by putting your iPhone on "Low Power Mode." You can do this easily by visiting "Settings," then clicking "Battery" and simply pressing the button next to "Lower Power Mode." These small but useful hacks will help prolong your battery until you can get to a charger.
iOS 11 isn't the first update to supposedly drain iPhone batteries. In November 2016, many iPhone users noticed that their battery didn't last very long after installing iOS 10.1. Battery-gate was then resolved after Apple issued yet another update to help normalize the battery life of the iPhone. It looks like this time around, Apple might be doing the same thing it did for iOS 10 and will be coming out with yet another update to fix the battery issue on iOS 11.
This goes to show that when it comes to iOS updates, sometimes it is best to just wait it out until all of the bugs and small glitches are sorted out before actually downloading it. I guess some of the hype surrounding iOS 11 was a bit off, but we will just have to wait and see what iOS 11.1 has in store.
Check out the entire Gen Why series and other videos on Facebook and the Bustle app across Apple TV, Roku, and Amazon Fire TV.