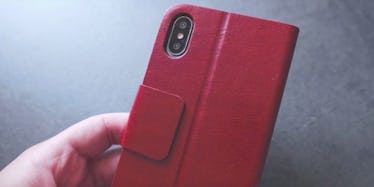 Rumored iPhone 8 Cases Will Get You Stoked To Accessorize Your New Phone — VIDEO
YouTube
If you're anything like me, then sometimes the thought of covering up your newest iPhone with a case feels so wrong because the iPhone looks sleek AF on its own. But then you remember the shattered phones of yore and realize that cases are very necessary. Say goodbye to chunky and outdated accessories, because the video of these rumored iPhone 8 cases will have you buying a cover for every day of the week.
According to MacRumors, case makers began designing cases months ago when the iPhone 8 dummy models began circulating. Some of the exciting changes that you'll see in the cases are due to the new design of the iPhone. Since the latest version of Apple's device is rumored to have updates such as a vertical camera, edge-to-edge display, and glass on the front and back of the phone, the new cases will have the appropriate cutouts and accommodations to account for the updates.
Protection is still the most important aspect of a case, so you'll be excited to know that the cases will cover your phone all the way around while still allowing you to benefit from the edge-to-edge display. The following video features cases that are designed by Olixar and Yesgo.
Another update the new covers will take into account is the glass back of the phone that is necessary for the alleged wireless charging capabilities of the new iPhone 8. It'll obviously be a total drag to get the new iPhone and have to remove your cover every time you want to charge up sans cord, but the case shouldn't impede any charging as long as the case is not made of metal.
Since the new iPhone is set to debut in September with the iPhone 8, iPhone 7s, and iPhone 7s Plus, you can look to get your hands on these compatible new covers at the same time you upgrade your phone (and drain your bank account).