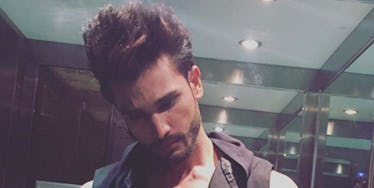 These Sexy Pics Of The 'World's Most Desirable Man' Will Give You Life
Rohit Khandelwal/Instagram
I'm a guy who likes girls, so is it sexist or offensive in any way to completely go to town on this sexy piece of man meat?
Because I feel like it would be totally unacceptable to dismantle a woman the way I'm about to with Rohit Khandelwal — winner of Mr World 2016.
Honestly, I can't fault this guy. He's giving me the biggest man crush and confusing my sexuality. Let's investigate.
Look how his dreamy eyes pierce your soul and make you feel dangerous and sexy at the same time:
Hands up if you wish you were his trophy right now. *Raises hand*
Daaaamn. I'd pay good money to dine off his collarbone.
He's tall as well. Of course he's tall as well. Probably hung like a moose, too.
He likes to travel. TICK. Wish he'd take me up the big wheel and buy me ice cream. Not necessarily in that order.
The man gorges on pastries...
...but somehow manages to look like a GOD.
Only real men wear pink. Write that down.
OK, enough, Rohit.
*Takes cold shower*
We'd tell you where he comes from and a bit about what he did to become Mr World, but you don't care. You wanted steamy pictures of outrageous biceps and chiseled features, and that's what you got. So stop complaining.