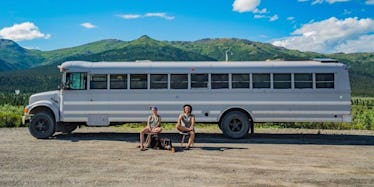 This Couple Turned A School Bus Into Every Traveler's Dream Home
Expedition Happiness
This couple will give you guys all the romance (and travel) envy.
After dating for three years, Felix, a filmmaker, and Mogli, a musician, felt an itch to leave the hustle and bustle of their home city of Berlin, Germany. A move was necessary.
But instead of relocating to a new city — or going on a long vacation — the pair decided the best way to shake up their lives was to set out on an epic road trip around the US in an old school bus that they would renovate into their new home.
Because... why not?
According to Metro UK, they also had another reason to take their love on the road: Their dog Rudi was having hip problems that prevented him from walking up the stairs of their Berlin apartment.
So, the couple found and purchased the bus — which had been used by a school in Pennsylvania for 20 years — on the internet. (FYI: It cost almost $10,000, and they didn't even see it in-person first.)
They then hopped a flight from Berlin to the states and began the revamping process.
And now, Rudi is living the luxe, wanderlust life with his parents. #Rufflife.
The entire bus revamp took Felix and his girlfriend about three months, but the time and money were well worth it. Check out this carefully-constructed interior, which looks like it jumped straight off of a Pinterest board:
The home-on-wheels seems to have everything your typical abode would include: A bathroom, kitchen, and even a flat-screen TV. Given the fact that it used to hold up to 72 passengers, it's pretty spacious:
Don't worry, the couple didn't forget to include a bedroom in the back. And I have to say, it looks damn comfy:
Felix and fam's epic adventure started out in Alaska, then headed south to Vancouver. Next, they want to continue cruising down the Pan-American Highway all the way to Panama.
Who knows where these two — or their awesome bus — will go from there. But if they ever want to sell it, we know of a very interested buyer...
For more pics of Felix and Mogli's epic adventures, check out their Instagram and Facebook pages where they're documenting every single awesome second of their life on wheels.