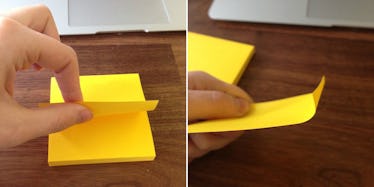 You've Probably Been Using Post-It Notes Wrong Your Entire Life
Elite Daily
Boy are you going to feel like a dummy when I drop this game-changing life hack on you.
Post-it users, your lives are about change for the better, thanks to genius blogger Martin Schapendonk, who shared a revolutionary Post-it peeling technique.
Seriously, how did none of us ever think of this before?
So, normally when you peel a sticky note, it does this annoying curl-up thing, right? For some reason we all just accepted this inconvenience as a fact of life and dealt with unreadable, curled-up notes.
Here's what we've all been doing our whole lives, which is totally wrong.
Turns out, WE DON'T NEED TO LIVE OUR LIVES THIS WAY, PEOPLE!
The problem is we always pull off the notes from the opposite ends of the sticky parts. Don't do that.
Here's what you should do instead.
WHAAAA? Mind blown! If you just grab the note from the side of the sticky part, you don't get any of that annoying curling!
Now the Post-it will lie flat when you stick it!
It's so beautiful, I might start crying. My life has been forever changed. No more fighting the losing battle of trying to flatten down sticky notes.
Thank you so much for this gift, Internet.
Citations: Sorry, You've Been Using Post-Its All Wrong… Here's The Right Way (The Daily Buzz)