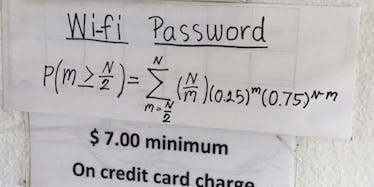 Restaurant's Insane Math Problem To Get Its WiFi Password Stumped The Internet
There's nothing worse than trying to Instagram a glorious food porn photo of your meal only to discover that you can't access the restaurant's password protected WiFi network.
If you ask me, I'm pretty sure some establishments actually get some sort of sick enjoyment out of withholding the WiFi password from their patrons.
However, one Thai restaurant in San Antonio, Texas is using its coveted WiFi password to torture its customers in a completely new way.
Yep, if you're looking to access the internet during a dinner date at Yaya's, you better bring a calculator along with your appetite.
Apparently, the only way to get the restaurant's WiFi password is to find the answer an insanely hard math problem scribbled on the wall.
That's right. There's a sign on the wall that lists the "Wi-Fi Password" in the form of a complicated mathematical equation that customers find pretty much impossible to solve.
In a desperate attempt to get this damn WiFi password, one Reddit user named Joshua_Glock posted a photo of the equation online and asked the math wizards of the internet for a little help.
Since then, hundreds of people have put their brain power to the test in an attempt to help this frustrated guy out.
However, it appears that not even the almighty internet can come up with the right answer for this ridiculous WiFi equation.
Now people on Reddit are basically losing their minds over the mystery of what the hell the WiFi password is for this place.
Some people were pretty certain that this elusive password was simply a summation of a binomial probability density function.
While others tried to explain the problem using a Bernoulli random variable, which is apparently similar to a coin flip.
Then there were those who proposed the WiFi password might be some sort of cruel trick that the restaurant was playing on its customers.
Plus, there's was one Reddit user who basically summed up what 99 percent of us were all secretly thinking when we saw this thing.
If you ask me, whoever gets the right answer to this problem deserves the password PLUS free food for a year because you clearly need to be some sort of mathematic genius who's part computer to answer this absurd math problem.
Citations: You Have to Solve an Impossible Math Equation to Use This Restaurant's Wi-Fi (First We Feast)