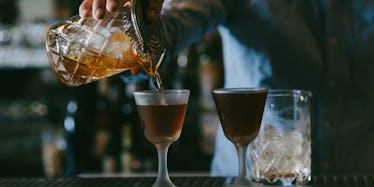 Savage Restaurant Names Drink After Man Who Leaves Brutal Review About Them
A note for all restaurant owners: When life gives you bad TripAdvisor reviews, make new menu items. At least that's what The Old Butcher's in Bristol, UK, did after an unhappy customer known as "Wayne S." left a rather brutal review on the popular travel website. The hilarious spot named a drink after him and his 1-star review.
Before you start second guessing every restaurant review you've ever left, let's take a look at the full-length TripAdvisor post that started it all.
After his bad experience on Thursday, July 13, Wayne S. wrote,
Heard about this new place and thought I'd pop in for a drink to check it out, so, it's an old butchers shop and feels like it still is, bright white tiled walls, the furniture was uncomfortable, wasn't sure if it was supposed to be a bar or a restaurant, to be honest it felt like neither, poncey 2/3 of a pint glasses of for beer, whats wrong with pints ffs??
He continued, and said,
The owner struts about in dungarees, and if he has the chance to check his reflection he damn well makes sure he does. Would I eat there? Never, only has crab on the menu anyway! Would I drink there again? Never. Would I recommend it? Only to those who want to be soooo hip (like the owner thinks he is) that they want to watch the traffic go by in rather grey and drab area of town.
In response to this lengthy, grammatically incorrect review, The Old Butcher's dungaree-wearing owner created a beautiful blue cocktail called "Ponce's Dungarees."
The Insta-worthy frozen bev is served in a margarita glass rather than Wayne S.'s preferred pint, and I sort of love the pettiness.
The Old Butcher's clarified its sentiments on Tuesday, July 18, in a savage Facebook post, featuring a photo of the new cocktail and a screenshot of Wayne S.'s TripAdvisor review.
They wrote,
Thank you to Wayne S. for his recent review of our lovely non-bar/restaurant. Wayne's inspiring words have won him a place on our menu; congratulations Wayne! We are therefore proud to introduce our new cocktail, for a limited time only, 'The Ponce's Dungarees'! We hope to see you soon in our grey and drab area of town.
Oh, burn.
Honestly, the Ponce's Dungarees looks really tasty. Wayne S. should be honored!