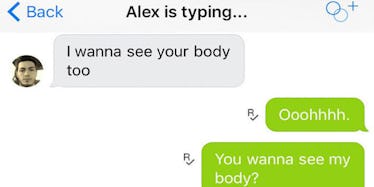 Girl Has The Most Genius Response To Guy Who Wants A 'Juicy' Pic Of Her Body
When it comes to dating in the modern world, it's no secret chivalry is pretty much dead.
Yep: If you've ever experienced the joy of using dating apps in order to find the man of your dreams, you've probably come to the disappointing realization that most of the world is filled with fuckboys who have absolutely no chill when it comes to courting women.
No, really. I'm serious. If I had a dollar for every time I swiped right and immediately received an unsolicited dick pic or request for nudes, I'd probably have enough money to quit my job and buy a mansion filled with cats.
If there's one person who knows the all-too-familiar struggle of dating in the digital age, it's Imgur user leonaloir.
Leonaloir was recently texting back and forth with a guy named Alex. He kept asking her to send him nudes.
However, this girl came up with the most genius response when her restless suitor wouldn't stop asking for some "juicy" pictures.
First, she sent him a steamy picture of her thighs and breasts... chicken thighs and breasts, to be exact.
But that's not all.
Then, leonaloir made Alex drool by stripping for him and begging the dude to sauce her.
It seems Alex was a bit intimidated by this chick's deliciousness.
He read her hot text messages and found himself at a loss for words.
Leonaloir posted her comical conversation on Imgur, along with the caption, "Some asshole online Fuckboy kept hammering me for nudes. He got what he asked for."
Now, lots of people are applauding this clever chick for coming up with such a savage response for this picture-hungry guy.
Others pointed out leonaloir's text messages left the guy battered and in dire need of a bucket of fried chicken.
Nonetheless, I think it's safe to say this funny gal deserves some serious props for managing to incorporate dipping sauces in her steamy sexts.
Citations: Guy Asks Girl To Send Him Nudes, Girl Sends Best Response Ever (Bored Panda)