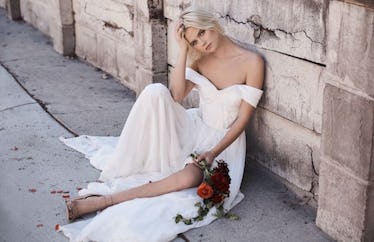 Reality Star Tears Up Wedding Dress And Smears It With 'Blood' After Divorce
Floravere
It's no secret that most divorces end on a bitter note.
When it comes to bashing your ex-bae, sometimes actions speak a lot louder than smack talk.
Case in point: Millie Mackintosh.
Back in February, Millie, a reality star who appeared on the television show, "Made In Chelsea," and British rapper Professor Green, aka Stephen Manderson, ended their two-and-a-half-year marriage.
Shortly following the split, Mackintosh got back together with her ex-boyfriend Hugo Taylor.
Professor Green obviously had very strong feelings about this because he there some serious shade at Mackintosh on social media.
If that's not bad enough, Professor Green even aired some dirty laundry on his relationship with Mackintosh in the lyrics to the song, "One Eye On The Door," from his new album.
Say you won't be home late But you've been up all night Won't tell me where you've been But you'll be occupied I can't do this anymore (One eye on the door) If you got one eye on the door (One eye on the door)
Mackintosh has been relatively quiet about the whole divorce.
That is, until Halloween rolled around and this devious divorcée decided to conjure up the perfect plan to get some revenge for her ex's snide remarks.
Rather than donning a slutty animal costume, Mackintosh decided to dress up as a scary bunny corpse bride.
However, she didn't get her costume from some shitty pop-up Halloween store.
Instead, she decided to take the DIY approach by making a few slight alterations to her wedding dress.
You know, the $1,860 Grace Loves Lace Gown she wore during her reception?
If you're wondering what a few alterations entails, she basically rips up her wedding dress and smears it in blood.
Now, before you dial 911 to report a murder, you should know that the dress was actually covered in fake blood — not the blood of Professor Green.
Sorry to disappoint, but Mackintosh is just a salty woman with a sense of humor, not a raging blood-thirsty psychopath.
She wore the bloody wedding dress to a party, where she look pretty damn happy as she posed for photos.
No really, just look at the satisfaction on her face.
A source allegedly told The Sun,
Millie was joking that she was glad she had finally found a good use for it. She ripped it to shreds and covered it with blood splashes. She even joked she wished it was Stephen's blood. It was funny but she's been so quiet about the divorce. It shocked people to see her make such a pointed statement.
Yep, actions certainly speak louder than words indeed — especially when they're ripped to smithereens and splattered in the symbolic blood of your enemies.