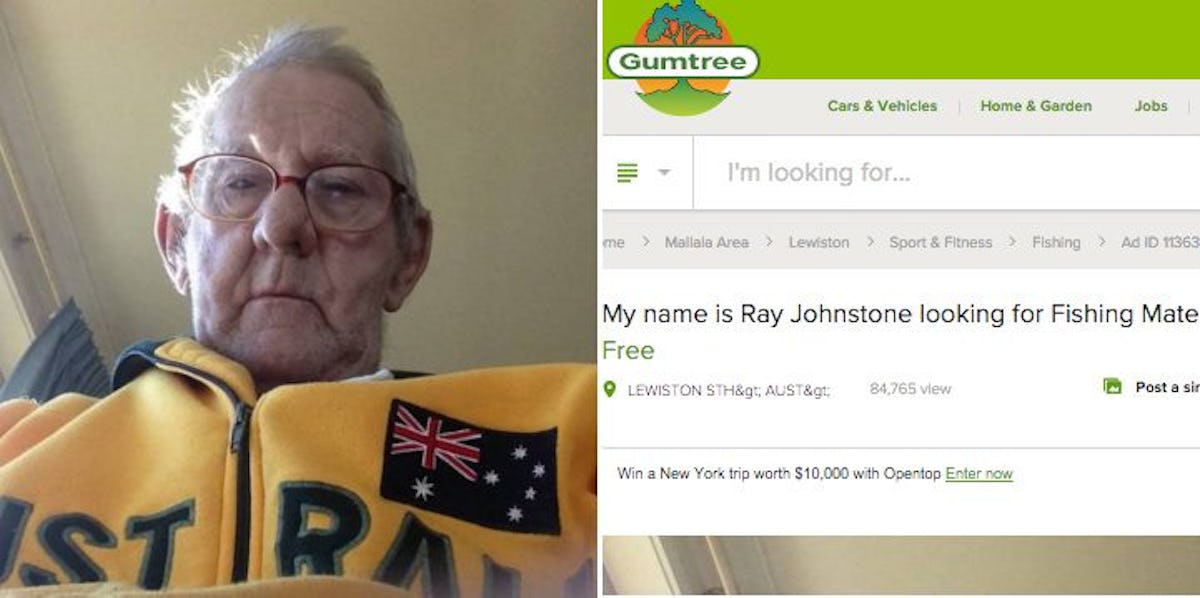 Widower's Adorable Ad For 'Fishing Mate' After Wife's Death Will Make You Sob
Gumtree
Ray Johnstone just wanted to find someone with whom he could go fishing.
Johnstone lives in Australia and posted an ad looking for a fishing partner on Gumtree, an ad-posting site. Amid advertisements for fishing gear and kayaks, Johnstone's stood out for its plaintive, simple request.
Johnstone wrote that he is a "widowed pensioner who is looking for a fishing mate." He noted, plainly,
My previous fishing mate is now deceased.
In his ad for a fishing mate, Johnstone included a photo of himself wearing glasses and an Australia sweater.
Johnstone went on to say he is a land-based fisherman with all the gear needed for land-based fishing.
He added he is "willing to share all costs" including petrol and bait. If an interested person has a boat, he said, he would also pay "all ramp fees."
Johnstone wrote,
What I want is a fishing mate in a similar position to myself who also wants someone to go fishing with.
It was a simple enough request, and one I'm sure we all make in our own specific ways at some point or other. All we really want is someone like us to do something we like with us.
This is especially true when it comes to older folks, who, like Johnstone, are quite literally losing friends to forces outside their control.
Johnstone also included beautiful pictures, presumably from other fishing ventures he has taken.
Johnstone's ad went viral and was seen by tens of thousands of people.
And the gambit worked out.
Johnstone was able to find himself a new fishing mate, according to Nine.com.au. He told the Australian news site he was planning to meet up with someone "reasonably local" to see if they would hit it off.
We wish him all the best in finding a new mate.
Citations: Widower's ad looking for a fishing buddy is too sweet for words (Mashable), Lonely Aussie pensioner finds fishing mate online (Nine.com.au)