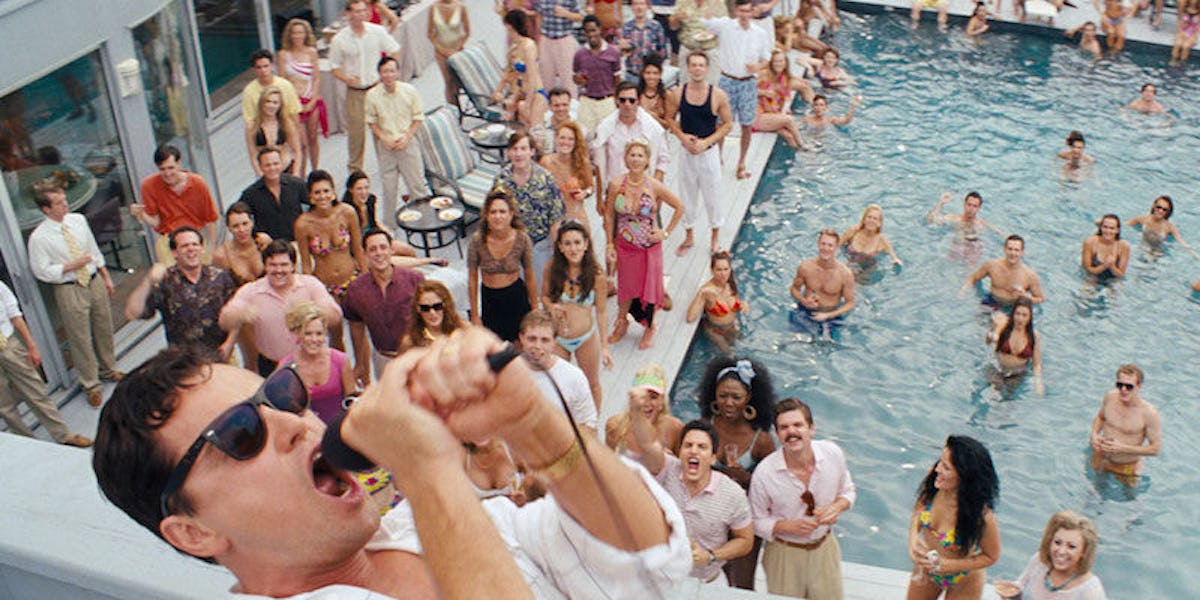 Guy Accused Of Rape Thought Victim Was Crying Because His Penis Was So Big
Red Granite Pictures
In one of the most absurdly douche-y pieces of information you'll hear all day, or maybe even all year, a guy accused of rape is denying he raped a young woman at his wild office party.
On what grounds is he choosing to deny it? Oh, you know, he just thought she was crying because his dong was SO big.
Yep. Despite all of our worst nightmares, this is unfortunately a true story.
26-year-old Daniel Green, a City trader, allegedly attacked the unidentified young woman after she curled up under a desk to sleep when the party was winding down on May 16, 2015.
Green explained to jurors that he originally met up with the young woman during after-work drinks. Drinks eventually progressed to a pretty wild party at the stockbroker's office, where Green admitted that he sipped on some fancy champagne while the whole group snorted cocaine off of a desk.
I know what you guys are wondering right now: How LIT was this party? Don't worry. Green gave the jurors a pretty detailed answer to that question: "The music was pretty good, and I jumped on the desk and started dancing. Everyone was dancing. Very enjoyable."
I'm going to go ahead and say that the party was pretty LIT. That is, until, according to Green, the mood "soured" when the victim's friend pretended that her stash of cocaine had been stolen, and Green had to empty his pockets to prove that it wasn't him who took it. UGH. Total party foul, am I right?
So, yeah, you get the picture. Anyone going into this much detail about the hype level of the party when he's on trial for rape is a pretty sucky human being.
After the mood "soured," most of Green's coworkers went home, leaving Green with the alleged victim and two others to salvage what was left of the party. It was then that Green went into a nearby room to find a mobile phone charger and began talking to the victim about her work.
According to Green, it was just "a normal conversation you would have with anyone." He elaborated, saying, "When you are talking to someone you notice glances, you have got eye contact. You don't say anything. You might smile. I leaned in for a kiss and we had a snog."
While they were making out, he took off all of his clothes until he was in only a pair of socks. He unclipped her bra with one hand and helped her out of her leggings.
Green admits that he first tried to have sex with her in a spoon position, but it was "awkward," so they turned around to face each other.
This is when he saw that she was crying. He said, "I looked up and I see a tear on her face. So I sat back. I said, "F*** you are crying."
She replied, "Can you leave, please, just go."
Here's the kicker. When asked why she was crying, he said, "Maybe my penis was hurting her. I always have difficulty when it comes to having sex with girls. I find my penis is hard to penetrate females."
Why is it so hard to penetrate females for poor, poor Daniel Green? Naturally, because it's so HUGE.
He proceeded to explain to the court just how HUGE his penis really is (10 inches long and about four inches in girth, in case you were wondering).
While the woman provided evidence that she had, in fact, tried to crawl away from him, only to have him drag her back and rape her under the desk, Green continues to deny the rape allegations and stands by his own claim that he was just too well endowed for her to handle.
Citations: Stockbroker accused of rape says she only cried because his penis is so huge (Metro News)