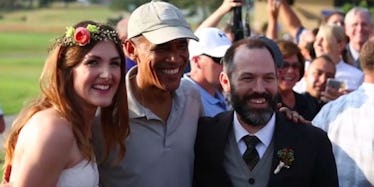 President Obama Casually Made An Appearance At This Couple's Wedding (Video)
When you're the leader of the free world, no one's going to get on your case for showing up uninvited to a wedding in a tan polo and some khaki shorts.
President Obama was playing a relaxing game of golf at Torrey Pines Golf Course in La Jolla, California when, at the 18th hole, he stumbled upon a wedding about to begin.
The ceremony was delayed so POTUS could play through his game. Afterward, he showed his gratitude by greeting guests.
When newlyweds-to-be Stephanie and Brian Tobe saw what was happening from their suite, the couple sprinted downstairs and over to the green to meet the president.
Wedding photographers Erin and Jeff Youngren captured memorable snaps of the interaction.
On the photographers' blog, Erin wrote,
Nothing about this presidential drop-in negatively impacted the day. In fact, the mood became so fun, laid back and celebratory, that it was one of the most joyful weddings we've ever been at – ever. We easily made up the timeline with the cocktail hour, we were able to get better sunset photos and in the end, things didn't run late at all.
Of all the qualities the American people look for in their president, "cool wedding hang" is rarely mentioned, but our leader had it covered.
In a short address to Obama himself, Erin wrote,
Thank you for showing us that you are a three-dimensional human. Thank you for taking time to rest in the midst of the unbelievable responsibility that you shoulder every single day, and thank you for being so gracious as to come shake hands on your day of rest. This small act was a joy and an honor.
#ThanksObama. Literally.
Citations: President Obama crashes wedding at La Jolla golf course and couple is ecstatic (Los Angeles Times)