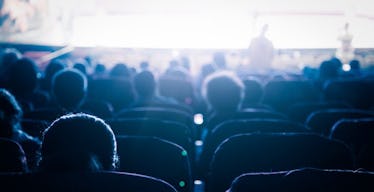 This Praiseworthy Company Lets You Go To The Movies Every Day For $10 A Month
Liu zishan/Shutterstock
What if I told you you could watch your favorite in-theater movie every single day for just 10 bucks? Would you believe me? Well, a company named MoviePass is looking to change your moviegoing experience by offering customers $10 a month memberships that can be used to watch a movie every single day for an entire month.
Is a MoviePass subscription worth it? Well, I think it all boils down to how much of a movie buff you are and if you will, in fact, get your money's worth. Ten dollars a month is pretty reasonable for a movie ticket, and MoviePass will allow you to use your $10 subscriptions to watch the movie of your choice as many times as you wan throughout the month.
How is the subscription so cheap?
MoviePass is similar to Netflix because you can get a subscription for only $10 a month. It was able to become this cheap because the startup sold a majority of its stake to Helios and Matheson Analytics Inc. — an IT service management company — but MoviePass hasn't really released any more information about their finances.
MoviePass has actually been around for a few years.
But this isn't the first time MoviePass gives movie subscriptions a shot. The Verge reports that the company was founded in 2011 and gave customers prices depending on where they lived and how many movies they saw per month. Then, in 2016, monthly subscriptions started at $15 and went all the way up to $50 depending on what city you were in and movie you wanted to see -- but still, the price point was too high.
It wasn't until recently when ex-Netflix executive, Mitch Lowe, became CEO of MoviePass and said that this subscription will help movie attendance go up. Lowe then made MoviePass' subscription $9.95 per month, which will be accepted at any theater in the U.S. that accepts debit cards. But unfortunately, this subscription will not cover 3-D and IMAX movies.
This is totally going to change the movie going experience. Let's see if MoviePass catches on.