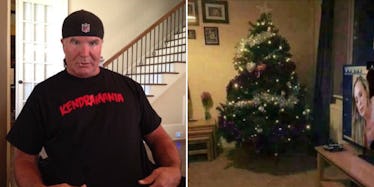 WWE Star Accidentally Posted Xmas Tree Pic With Steamy Porn Scene On His TV
Instagram
I have always been in the habit of throughly checking the background of any image I share on social media.
You never know what could just be innocently lurking in the background... or not so innocently.
Scott Hall, better known as Razor Ramon, a former WWE star, tried to show the internet his beautiful Christmas tree.
Instead, everyone couldn't help but focus on just WTF was going on on his TV screen.
How much porn do you watch that you don't even think "Hey, maybe I should turn this off before I take a picture? Or at least crop it out of the shot?"
How much porn do you watch that you DECORATE A CHRISTMAS TREE WITH IT ON IN THE BACKGROUND?!
Maybe my playing Nat King Cole instead of hardcore porn just means I'm a big ol' Christmas prude.
Hall has since deleted the picture featuring a young blond woman getting her holly jollies off from behind.
Of course, I can't say that I'm truly surprised that Hall would have something like this as his holiday tradition.
Just looking through his Instagram suggests that he may have a bit of a one-track mind...
But who *doesn't* want nudes on their birthday?
We're all born into this world naked, and we deserve to see other people naked on the anniversary of that day!
Despite all his dirty-birdie-like attitudes, I still have to admire the man for shutting down gross people in his comments.
The following exchange was found on this snap of a young woman:
Listen, no one can judge me based on what I search for in my private browser, and I do not think we should judge Scott Hall for watching porn while decorating his Christmas tree to celebrate our Lord and Savior's birth, OK?
Citations: Former WWE Star Scott Hall Posted His Christmas Tree On Instagram While He Was Watching Porn In The Background (Bro Bible)