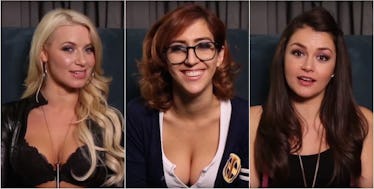 Porn Stars Reveal The Hilarious And Unusual Origins Of Their Stage Names
YouTube
Oh, porn stars, sometimes I forget you're just regular people with regular names once the makeup's scrubbed off and the clothes come on.
In one of the latest videos from the porn star experts over at WoodRocket, porn stars explain how they got their stage names.
Because the porn stars surveyed, including men and women, are so diverse, their explanations totally run the gamut. Some explanations are extremely specific, some are downright weird and some seem to only make sense coming out of the mouth of a porn star.
Some names practically came to be by accident or were given to the porn stars by other people, like publicists and agents.
For instance, one porn star got the first part of his name from the movie "Snatch" and the second part of his name from David Bowie's music.
Another porn star chose her first name from the name of her childhood soccer team and as well her name's high alphabetical ranking, and she got her last name because, as she said, "I enjoy my recreational smoking."
Another porn star literally took her name straight from the "Teenage Mutant Ninja Turtles" franchise, so you can see the names truly come from all over.
I don't think any of these porn stars got their names in this way, but I always heard a fun and easy way to get your stage name was to take your middle name (or first name) and put it together with the name of the street you grew up on. If you play this game with friends, you always get the wackiest stage names.
Look out, world, Giacomo Leete is here stay! (Please, no one ever call me that, I beg you.)
If you're feeling as daring as I am, let me know your stage name in the comments! I'm sure it can't be half as embarrassing as mine.