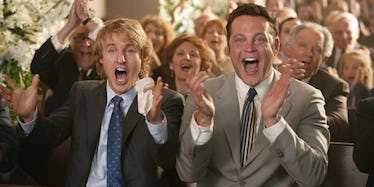 People Are Apparently Really Into This Type Of Porn During Wedding Season
New Line Cinema
IT'S WEDDING SEASON, Y'ALL.
But aside from inundating your Instagram and Facebook feeds with obnoxious pictures and cheesy hashtags, it seems as though wedding season has taken over another realm of our lives: porn.
With the upcoming release of the new movie, "Mike and Dave Need Wedding Dates," Bustle asked Pornhub's Insights team to do some research into wedding-related porn searches. And their findings were pretty interesting.
First of all, the seasonal spike in real-life weddings tends to mirror a spike in wedding-themed porn searches.
Take a look for yourself here:
As you can see, June and September are the most popular months for wedding-related porn searches, followed closely by July. According to Bridal Guide, June and September are the most popular months for weddings.
Coincidence? I think not.
But what is even considered wedding porn? Don't worry, the Pornhub Insights team has you covered on that one with their handy-dandy list of what exactly people were searching for in relation to "wedding porn."
Check it out for yourself here:
Looks like the top searches when you're looking to get it on to some wedding porn are (pretty unsurprisingly) "wedding," followed closely by "cheating bride" and "bachelorette party."
But who's searching for what? Now that we know what everyone's searching for, let's do some deeper digging and see what guys are into versus what girls are into.
In general, men are 34 percent more likely to search for wedding porn when compared to women, but both men and women are still pretty into it.
And here's what they're specifically into:
So yeah, women are big on honeymoon, and guys are, like, SUPER into "wedding dress" porn. Who knew? Well, now you know.
Citations: Wedding Porn: Cumming Together (Pornhub Insights)