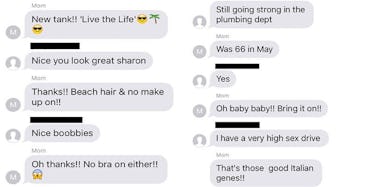 Poor Girl Accidentally Gets Added To Mom's Sext Convo With 'Special' Friend
Imgur
DEAR. LORD. NO.
The only thing worse than accidentally sending mom or dad a sext is getting added to a saucy group chat by one of them.
This poor, poor child didn't know whether to laugh or cry when she was unwittingly signed up to a three-way convo with her mom and some horny Italian dude.
And my God, the text exchange that you're about to see really is the stuff of nightmares.
The fact that she lets it carry on for so long before saying anything blows my mind.
Take a deep breath and read how it opens:
I'm guessing just before the cool shades guy and palm trees there's a picture of mom and her "perfect size" boobs in a tank top that'll live long in her daughter's memory.
This is the first time I've ever seen "hubba hubba no" used as a chat up line, but I have a feeling it won't catch on. But momma's been hitting the gym by the sound of things, and she wants to flaunt those assets.
WTF IS THIS GUY'S CHAT? PLUMBING DEPT?! She's loving the Italian Stallion's game right now.
Jesus, Mom. TMI. TMI.
No. Please don't say he's angling for a threesome. This guy's lust knows no bounds.