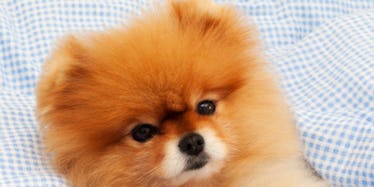 This Happy Pomeranian Getting A Haircut Is Actually The Cutest Thing Ever
Getty Images
Whoever thought to give a Pomeranian a buzzcut is a f*cking genius. Fluffy and feathery, they were always cute before, but with trimmed looks, they're a whole new kind of cuddly butterball.
The Facebook page Peace & Love posted a video of one little pompom having the time of his life at the salon. As his stylist trims his puffy coat, he blisses out, smiling with his eyes half-closed. He's so freakishly cute, you may start biting at your screen.
Who knows when or where this puppy magic occurred, but the video is posted below for your viewing pleasure.
The cutest customer ever.... LoL Posted by Peace & Love on Monday, February 8, 2016
Citations: You Will Never Feel As Good As This Pomeranian Getting A Haircut (Huffington Post)