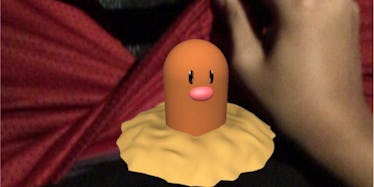 A Ton Of Pokémon Go Players Are Using The Game To Get Super Sexual
Twitter
You probably had a sense this was coming, and now it's here. A whole bunch of Pokémon Go players have taken the game from an innocent pastime to raunchy, super sexual playtime.
In case you've been living under a rock this past week, Pokémon Go is a game you play on your phone that uses augmented reality to let players "catch" Pokémon characters in real life. You can take a photo of whatever's in front of you while you're playing, so you know what that means...
Enter the Pokémon Go nude pics.
So far, the most popular NSFW Pokémon Go photo is titled "WHEN YOU ABOUT TO SMASH BUT POKEMONGO IS LIFE."
View post on imgur.com
But that's just the tip of the iceberg. According to Kotaku, there are tons of naughty Pokémon Go photos circulating on the Internet, not to mention an entire subreddit dedicated to these special brand of pics.
Like this girl just chilling in bed with an Angry Birds looking thing...
Or this dude hanging with a "Diglett" on his shorts.
People are posting their NSFW pics on Twitter as well.
Thanks to Pokémon Go, these "Dicklett" pics are actually a thing.
Sexting has been taken to a whole new level.
When will this Pokémon madness end??? Now that people are sharing Pokémon Go nudes, it likely won't slow down any time soon. Because, really, it's just too fun not to participate.
Happy poké-ing, everyone!
Citations: Pokémon Go Nudes Are A Thing Now (Kotaku)