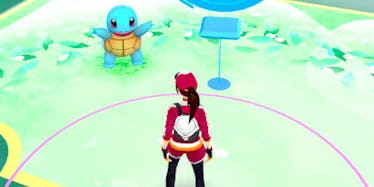 Twitter Is Losing It Over This Unexpected Problem With Pokémon Go's Trainers
Pokémon Go
When it comes to video games (and real games), I've never been the type to sprint onto the playing field without a second care for how I look.
Way back in 1996, Lara Croft won me over with that insanely flattering bodysuit and cargo shorts combo -- have curves like that ever really existed? Absolutely not, but there was no telling my prepubescent brain that.
When The Sims hit stores in 2000, my over-excited child brain actually lost hours of developmentally important sleep, feverishly trying to plan out the style aesthetics of all my characters.
And now, 16 years later, we come to the hellish obsession that is Pokémon Go. Now, I don't know a Diglett from a Pidgeotto (I had to ask someone for help making that reference), but I do care a hell of a lot about my character's fashion choices.
Twitter has been hit with a wave of fashionable people questioning the sartorial sense of their trainers' outfits, which largely involve hose and rompers paired with jaunty baseball caps. Complex noted the idea of male characters wearing leggings is very fashion forward, while former Lucky editor-in-chief Eva Chen took a moment to complain about the lack of options.
Feeling like your trainer is already in a style rut? You're not alone. Here are some of the best reactions.
Sometimes, you just want a chic Pokémon Go trainer.
When #PokemonGO won't let you have an all black outfit @TrendyProblems — Erica McClintock (@ericarmcc) July 10, 2016
I can't get past the character design part of Pokemon go bc I'm infuriated that neither avatar owns an outfit with a cohesive color palette — lil' j (@liljflores) July 7, 2016
The outfit and hairstyle choices on Pokemon Go are really lacking pic.twitter.com/wdFmTIKCUQ — Eva Chen (@evachen212) July 12, 2016
Like the game is a bad night in a dive bar, your trainer certainly won't be able to break the seal.
The one piece outfit is cool and all, but what a nightmare it must be to have to use the bathroom. #PokemonGO pic.twitter.com/UeaIRyaVOp — Brandy (@BeforeEden) July 7, 2016
The choices, honestly, are what's killing everybody.
Picking my Pokemon go outfit is the most stressful — Maggie McManus (@maggie_mcmanus) July 7, 2016
I thought my lil color coordinated outfit was so cute until I realized I'm a MINION #PokemonGOpic.twitter.com/1igO3pcHLP — ʕ´•ᴥ•`ʔ (@Caroline_Bee98) July 7, 2016
Genuinely considering restarting Pokémon Go on the basis that I've changed my mind about my avatar's outfit choice. — Joe (@Electrosoul47) July 12, 2016
Your only chance for a more fashionable trainer? Copy Pokémon Go's style in real life, but do it better.