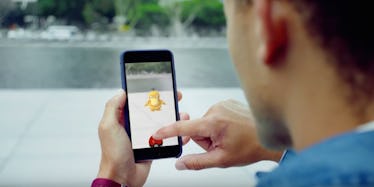 This Guy Actually Got Caught Cheating On His Girlfriend Through Pokémon Go
YouTube
I keep waiting for this whole Pokémon Go thing to be over, but no, it just seems to keep going on and on, and on and on.
People FREAKING LOVE this game, even if it seems to be ruining other elements of their lives like, say, their relationships. Yes, that's right, this nerdy virtual scavenger hunt game literally has the power to ruin your love life. Just ask Evan Scribner.
Who's Evan Scribner, you ask? No, he's not some genius inventor of the game or some hot rock star drowning in a sea of women. But Evan Scribner did have a girlfriend. He also now has an ex-girlfriend.
As many of us have decided on as a society, you're usually not supposed to be boinking your ex-girlfriend once you have a new girlfriend. But Evan didn't seem to want to adhere to that rule.
So, yeah, our boy Evan was two-timing his current girlfriend with his ex-girlfriend. And it was all going pretty well for him until he, along with what seems to be the rest of the world, got addicted to Pokémon Go.
Now, his current girlfriend is actually his ex-girlfriend. I know you're wondering, "But why?"
Well, in an interview with The New York Post, Scribner explained,
She saw that I had caught a Pokémon while at my ex's house.
In case you actually have a life and have not had a chance to play the game, it leads people to virtual Pokémon that are located in the real world. Once you capture the Pokémon, the game's mapping software records where you captured it.
Unfortunately for Evan, the mapping feature only served as evidence against him when his girlfriend saw that the Queens resident had captured a Pokémon at his ex's Brooklyn apartment.
Things aren't looking so hot for him since then.
He told The Post,
She found out last night at my house and hasn't contacted me since then.
Hang in there, Evan. Or maybe, take this as a learning lesson and don't cheat on your girlfriend, you dingus.
Citations: I got caught cheating through Pokémon Go (New York Post)