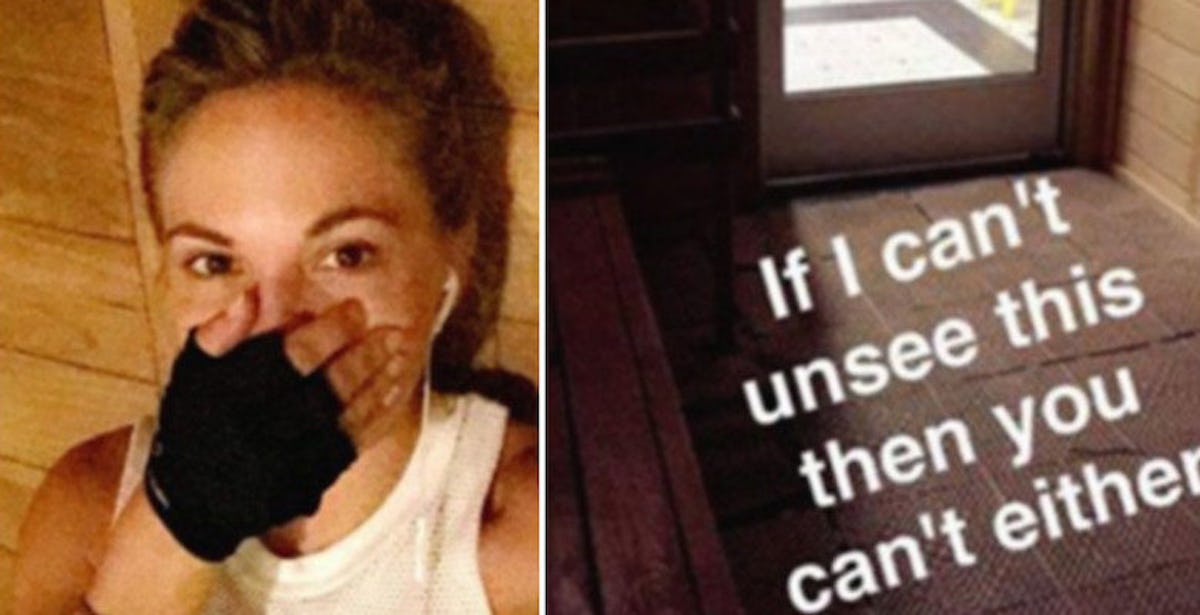 Playboy Model Who Mocked Naked Woman In Gym On Snapchat Could Go To Jail
Snapchat
Remember back in July when Playboy model Dani Mathers posted a Snapchat story body-shaming a woman showering at her gym?
Yeah, that was all kinds of wrong.
Well, it turns out the 29-year-old could face charges.
According to TMZ, the woman in the Snapchat Story, believe to be in her 70s, wants police to bring the heaviest of charges against Mathers.
The LA city attorney is reportedly reviewing the case and could bring a charge of dissemination of private images.
If found guilty, Mathers could face up to six months in jail.
The model sparked outrageous when she shared a picture of herself giggling in front of a woman in the locker room with the caption, "If I can't unsee this then you can't either!"
People accused the model of body-shaming, branded the Snap "appalling" and said it's people like her who make others feel uneasy about changing in locker rooms.
The model deleted the Snaps and apologized in a string of tweets and then in another Snapchat Story. In a video, she said the Snap was meant for a close friend only. But because she's new to Snapchat, she accidentally shared it on her story.
Here's what Dani said in the Snapchat Story, summed up in a couple of sentences:
That was absolutely wrong and not what I meant to do. I chose to do what I do for a living because I love the female body, and body shaming is wrong, and that's not what I'm about. That's not the type of person I am.
But people weren't buying it.
And then, this truth bomb was dropped.
Amen, Greg.