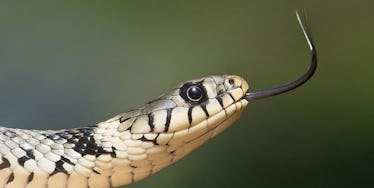 This Picture Of A Snake Orgy Is Driving The Internet Insane
Wikimedia Commons
A woman was just taking a morning run like a functioning member of society when she happened upon a ball of snakes.
Like, literally, it was a ball of snakes on the ground.
A whole bunch of snakes were tied up and knotted around near a jogging path, and the picture is so freaky.
The "scientific" explanation for the picture, though? Even freakier. And by freakier, I mean like fuh-reak-ier.
Christine Proffitt found the snake ball while running in Charlotte, North Carolina.
"I saw what I thought was one big snake, and I looked down and I saw probably 10 to 20 different snakes," she told ABC 13.
She sent a picture of the snakes to her local NBC Charlotte station, who posted the image on Facebook. Are you ready to see it? I hope you're ready because here it is:
Just as you probably gawked, lots of people were like "OMG no stop."
As it turns out, this frightening picture is actually of a perfectly natural... well... snake orgy. It's a snake orgy.
The picture caused some panic in Charlotte, but that panic was overblown.
NBC Charlotte spoke to Marvin Bouknight, an expert at the Charlotte Nature Museum.
"There's two things [snakes] need to do -- they need to eat, and they need to mate," he said. "And what you're seeing is what people call a mating ball."
STRAIGHT UP. "MATING BALL." AKA IT'S TOTALLY A SNAKE ORGY.
Snake orgies are really safe for any humans who might happen to wander by.
Apparently snakes are much more open about their sexuality than American humans, so they won't lash out if you want to watch.
"To be honest, if there's a time a snake is completely harmless, it's during one of these mating balls because he's concentrating on mating," Bouknight said. "He's fighting with the other snakes. He's not concerned about anything."
So, like, literally, they're just super focused on boning. Take as many pics as you want.
And anyways, these particular snakes were never going to be super harmful in the first place. They're water snakes, which are chill snakes.
In addition to this being a story about romance, it's a story about overcoming adversity.
"I don't like snakes," Proffitt, the original snake orgy spotter, told ABC. "I'm terrified of them, but it still hasn't deterred me from going."
Run on, Proffitt. You the real MVP.
Citations: This North Carolina Snake Ball Is More Romantic Than You Think (Atlas Obscura), BALL OF SLITHERING SNAKES SHOCKS NORTH CAROLINA JOGGER (ABC 13), Expert: Ball of snakes is harmless (NBC Charlotte)