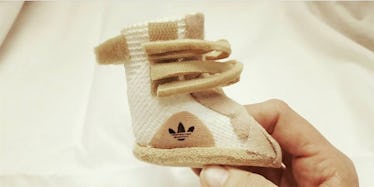 This Physical Therapist Transforms Casts Into Fun, Wearable Art For Kids
Getting a cast at any age is a real bummer, but getting a cast as a kid is downright terrible.
For weeks, you can't play with your friends or run around like a crazy person, or do normal kid stuff.
But, thanks to one physical therapist, at least if you're a kid having to wear a cast, you can now rock a designer one.
Amanda Hall, a physical therapist in Washington, DC, is changing the cast game with her inventive style.
Hall takes what would otherwise be a boring medical procedure and turns it into something creative that the wearer actually wants to show off.
Hall recently told MTV News,
I first started when a tiny baby girl I was working with needed splints, and all I had was beige casting material small enough for her. I styled them as UGG boots to take advantage of the color. Her mom was so proud to put them on her! So, ever since, I've been trying to up my game. If it's cute and will excite my kids, I try and make it work.
Her cast work now includes Yeezy replicas, Spiderman casts, Air Jordan replicas and more.
Hall adds,
The kids get really into it and give me design ideas to make me keep upping my game so they can show them off. But you know how kids are — they often ask for more.
Check out some of her amazing designs below, and follow her on Instagram.
Citations: A Physical Therapist Makes Casts For Kids That Look Like Yeezy Boosts (MTV News)