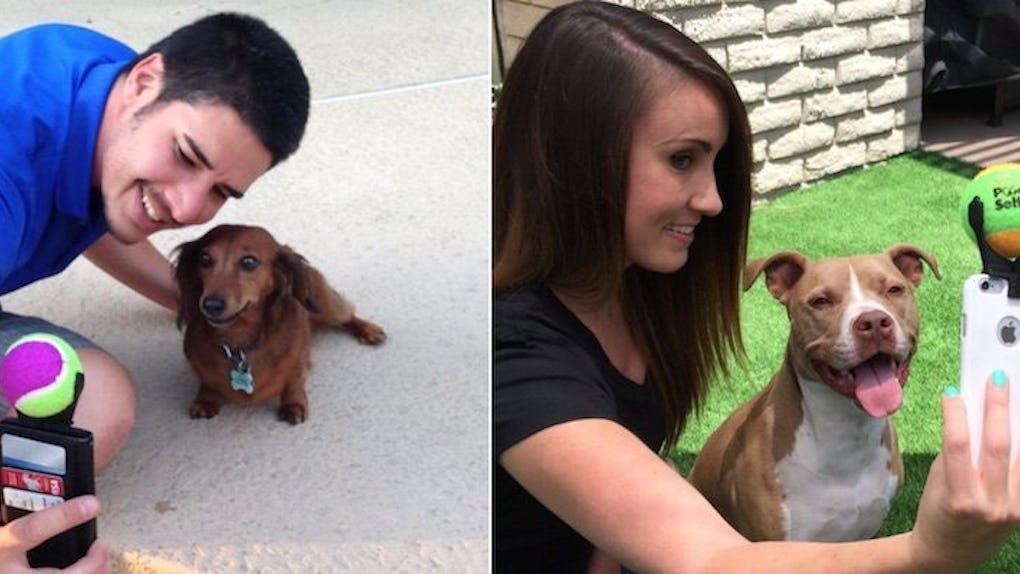 Instagram
Genius Phone Device Lets You Take Picture-Perfect Selfies With Your Pup
This ridiculously simple cell phone accessory is giving dog owners the ability to capture canine selfies without their pups going bonkers trying to stay still.
Every once in a while, an invention so mind-bogglingly simple comes around, and it makes you wonder why somebody -- more specifically, you -- didn't come up with it before. I'm talking about inventions like the spork, the Bumpit and Twitter.
A device involving attaching a tennis ball to your cell phone so your dog can take selfies with you is the latest example of that kind of invention.
Dubbed the "Pooch Selfie," this remarkable contraption gives you the ability to strap a tennis ball to the top of your cell phone in order to get your dog to sit still while you snap a few quick photos.
If your dog isn't buying the whole tennis-ball-on-a-phone thing and becomes restless, you are able to remove the ball, give it a few squeezes and then place it back in the Pooch Selfie to get the shot.
Though it isn't in stores just yet, you can order yourself a Pooch Selfie through its Kickstarter page with a minimum donation of $7.
In case you're wondering, there is no cat selfie device because cats are insufferable monsters secretly plotting to kill you all day.
Citations: The Pooch Selfie Is A Clever Smartphone Accessory Pet Owners Might Want To Get Their Paws On (Tech Times)