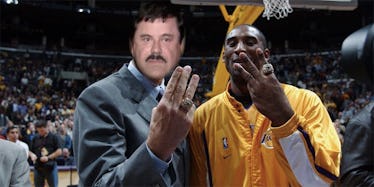 People Think El Chapo Escaped Again And Obviously The Tweets Are Pure Gold
Twitter
El Chapo has done it again.
And, to be clear, by "done it again" I actually mean people think the infamous Mexican drug lord, whose real name is Joaquín Guzmán, has escaped from prison for a third time. The rumors on social media appear to have been sparked after a few dubious links were sent out claiming that Guzmán broke out of jail on Friday.
If El Chapo really did escape, it would be the third time in the past 15 years that he would have managed to slip through law enforcement's fingers.
Now usually, when such a claim is made, the proper recourse is to seek out an actual thorough report from a journalist of some repute.
And since there's been none of that in this case, I'm 99 percent sure El Chapo didn't escape from prison. But when the tweets are this funny, no one gives a damn about verifying the actual report. We'll leave that to El Universal.
In the meantime, here are the funniest posts from Twitter's top trend on Friday afternoon: the one and only El Chapo.
At first, people were just trying to wrap their heads around the idea that El Chapo could pull it off.
Then it hit them.
The Pokemon Go jokes were always around the corner.
But the best ones were tweets imagining his escape.
At this point, people think he's "earned" his freedom.
And, of course, there were Michael Scofield jokes.
The three-peat indeed.