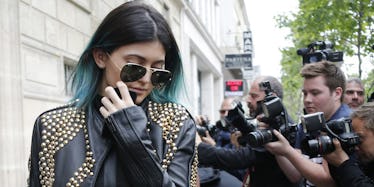 People Are Really Mad At Kylie Jenner Over Her New Lip Glosses
REUTERS/Gonzalo Fuentes
It's a widely known fact that Kylie Jenner's fans go absolutely apesh*t over her lip kits.
They sell out in an instant and attract the attention of both amateur artists and major beauty bloggers. Put simply, her lip kits are the holy grail of makeup products.
But one makeup artist and model, Jeffree Star, is doing the unthinkable and calling out Jenner for releasing a sub-par product. And when I say sub-par, I'm talking about way, way below the par, like deep under the ground beneath it.
Apparently, the wands used to apply the lip gloss are frazzled AF. And, as it turns out, other fans are also deeply upset about it.
Angelica's doll is not pleased by the comparison.
Seriously, though?!
Kylie Jenner's team quickly responded to the outcries with a tweet that promised shipments of new kits to everyone who was less than impressed.
All is well that ends well, right? I guess fans will have to wait for their new lip glosses to see.
In the meantime, Kylie, we've got our eyes on you... mainly because we want to know what wig you're wearing next.
Citations: People Are Pissed AF About The Quality Of Kylie Jenner's Lip Glosses (BuzzFeed)