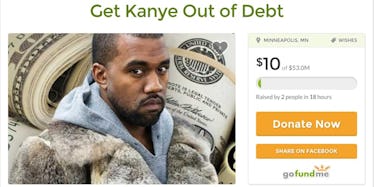 People Are Trying To Crowdfund Money For Kanye To Get Him Out Of Debt
Please, for the love of God and Kendall Jenner, don't donate to these GoFundMe campaigns.
For the past few days, Kanye West has been acting like your habitually broke friend who always wears nice watches and new shoes but never has money when it comes time to split the check at Olive Garden.
In the same weekend Yeezy dropped his new album, The Life of Pablo, he went on this weird Twitter confessional about how he's $53 million in debt.
At one point, he even straight-up started asking Mark Zuckerberg for money to pay down his debt.
YOU MEAN THE GUY WHO RENTED OUT MADISON SQUARE GARDEN TO DRESS AROUND 30 OF THE WORLD'S ANGRIEST MODELS IN BURLAP SACKS UNDER A GIANT BUTT TARP IS IN DEBT?!
Here is the thing: According to Ye, this is nothing new.
In fact, getting into debt is probably one of his favorite things to do.
Kanye loves being in debt more than those Charmin bears love talking about the ins and outs of wiping their butts.
If you're worried about how the man, who one time had a heart-to-heart with Jesus about the struggles of stacking millions of dollars worth of bills, will put food on the table, don't worry! Right now, you can donate to three crowdfunding campaigns geared toward helping Kanye.
*Sarah McLachlan's "Angel" starts to play.* For less than the price of 60 million cups of coffee a day, you can help Yeezy out.
This one is closest to its goal of raising $53 million, scraping together an impressive $10 as of now.
The description of this since-deleted campaign simply read, "So kanye asking for help and I felt like 'ayo if this n*gga need help, why not you feel me?'"
Father-of-three Matt Crossette wants to raise $100 million for the cause.
Before you donate it, just make sure you realize if this is all true -- which, to be honest, it probably isn't -- Kanye did this to himself.