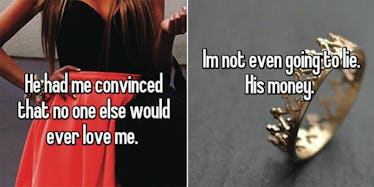 People Confess The Reasons They Got Back Together With Exes Who Cheated (Photos)
Whisper
There's nothing worse than being cheated on by the person you love most.
Finding out your significant other is f*cking around will make you feel pretty awful.
But the worst part about this type of betrayal is, sometimes you just can't find it in your heart to let him or her go, even though that person did you wrong.
Yep, love can be a real motherf*cker at times.
Whisper, an app allowing you to dish out your deepest secrets via anonymous messages, recently asked people to reveal why they got back together with their exes who cheated on them.
Their confessions include everything from the fear of being alone and understanding people make mistakes to loving someone too much to let go and simply wanting a chance to get revenge.
There are all sorts of reasons people decided to give their relationships another shot, and some of these juicy Whisper confessions will definitely surprise you.
Take a look at the pictures below to see why people gave their cheating exes second chances.
What if he really is the only one for me?
He f*cked up and owned up to it.
"Because I love him."
He mind f*cked me after f*cking someone else.
Not everyone can forgive.
He wanted to work on it.
Once a cheater, always a cheater.
Love will make you blind.
There were too many memories.
Nothing haunts you like the "what ifs" in life.
Sometimes, you have to keep it together for the kids.
Being alone is better than being with a cheater.
His money made me do it.
The road to happiness can be pretty bumpy.
Nothing is sweeter than revenge.