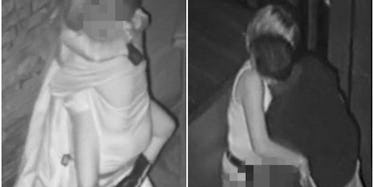 People Caught Having Alleyway Threesome Accidentally Become PornHub Stars
PornHub
If you happen to have experienced a moment of uncontrollable lust in the back alleyway of a nightclub in Sunderland, UK, you might want to check PornHub.
It's likely you've accidentally become a porn star overnight and can finally quit that 9 to 5 for the bright lights of the adult entertainment world.
For the past few months, anyone who's engaged in some hanky-panky behind The Point (enjoy that pun) has been caught on CCTV.
Yep, the head of security at this venue has been having a grand old time.
Turns out his thing is to come into work, review the X-rated footage of drunken revelers going at it behind the club and then upload the vids onto PornHub.
These poor, unassuming people have literally no idea the world is uh, enjoying their sordid moments of spontaneity.
A threesome is just one of many sexual encounters the CCTV has witnessed. Then there's the bizarre scene where a woman continues to smoke during the hookup.
A veteran of the nightclub told The Sun,
These couples clearly don't have any issues with a quickie in public — but I don't think any of them expected to ever become sex stars with the public. There is little left to the imagination. Alcohol clearly affects some of the lads' performances so professional porn stars won't have much to worry about in the way of stiff competition.
So apparently, the location has become famous among locals who travel from (not very) far and wide to experience the alleyway's magic. He continued,
While most people would be happy with a kebab and a taxi home, they've opted to get a leg up against a wheelie bin. The alleyway is a well-known shagging hotspot and it's somewhere a lot of people want to tick off their list. And now they've done it they're being ogled all around the world.
*books tickets to Sunderland*
Citations: Couples Caught Having Sex Outside The Point Nightclub In Sunderland (The Sun)