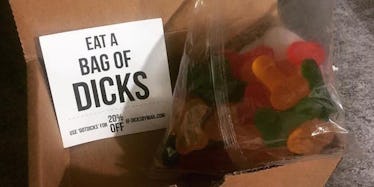 Penis Gummies Are The Perfect Way To Let Your Ex Know He's A Dick This V-Day
Valentine's Day is like a double-edged sword.
If you're one of the lucky individuals who have been struck by Cupid's arrow, you'll spend this love-filled day being swept off your feet and showered in affection by bae.
But if you happen to be one of the many people who find themselves alone right before Valentine's Day, there's a pretty good chance you'll spend the day loathing your ex as you attempt to fill the hole in your lonely heart with shitty, heart-shaped chocolates from the drugstore.
Seriously, there's nothing that will make you feel saltier about your asshole ex than seeing a bunch of lovey-dovey couples who remind you of your newfound singleness.
If you're looking for the perfect way to let your dick bag of an ex know how you really feel about him or her on Valentine's Day, you're in luck.
You can now tell your former loves to "eat a bag of dicks" by sending them precisely that.
Dicks by Mail, the online service that lets you anonymously send penis gummies to all of your enemies, is on a mission to make V-Day a little sweeter by turning your dreams of revenge into reality.
In honor of the upcoming holiday, Dicks By Mail is offering special boxes of cock-shaped candies that will let exes know they're giant dicks.
Or as the website puts it,
Dicks by Mail is the easy way to send that feeling to anyone in your life that deserves that feeling of sadness, disappointment and betrayal.
If you're wondering how this all works, it's simple.
All you have to do is pay $20 and provide your ex-valentine's shipping information.
Then an inconspicuous box will appear on the person's doorstep.
Upon opening the package, the unlucky recipient will find a big ol' bag of penis gummies, along with a note that reads, "EAT A BAG OF DICKS!"
If you're looking to further your ex's pain and suffering, you can also opt to include some messy dick-shaped confetti and glitter in the box.
Yep, if you ask me, revenge certainly is a dish best served cold in the shape of a dick.
Citations: You Can Anonymously Send A Bag Of Gummy D*cks For Valentine's Day (Foodbeast)